With more than 8,000 martech solutions currently available, open DXPs (such as Squiz) enable businesses to actively embrace and seamlessly integrate with all the leading digital tools available on the market.
The downside of adopting multiple digital tools, even when fully integrated into an open DXP, is an extensive tech stack that can quickly become cumbersome and siloed. In fact, the latest findings suggest that even small businesses (with fewer than 50 employees) average up to 40 different SaaS apps (Chiefmartec, 2019).
Hello, Single Cloud Experience
Once again, the answer to simplifying customer experience delivery isn't to cull apps or restrict teams to inferior tools; it's to embrace innovation and unite your digital experience ecosystem into a single cloud experience.
The Squiz Experience Cloud is a platform as a service (PaaS) solution that provides a single, centralized, accessible environment for every CX technology and system – resulting in an easier, faster, and more efficient process for managing and delivering experiences.
Unlike other hosting and cloud options, the Squiz Experience Cloud offers rapid, cost-effective deployment and upgrades, with the added advantage of enabling an open and integrated platform model.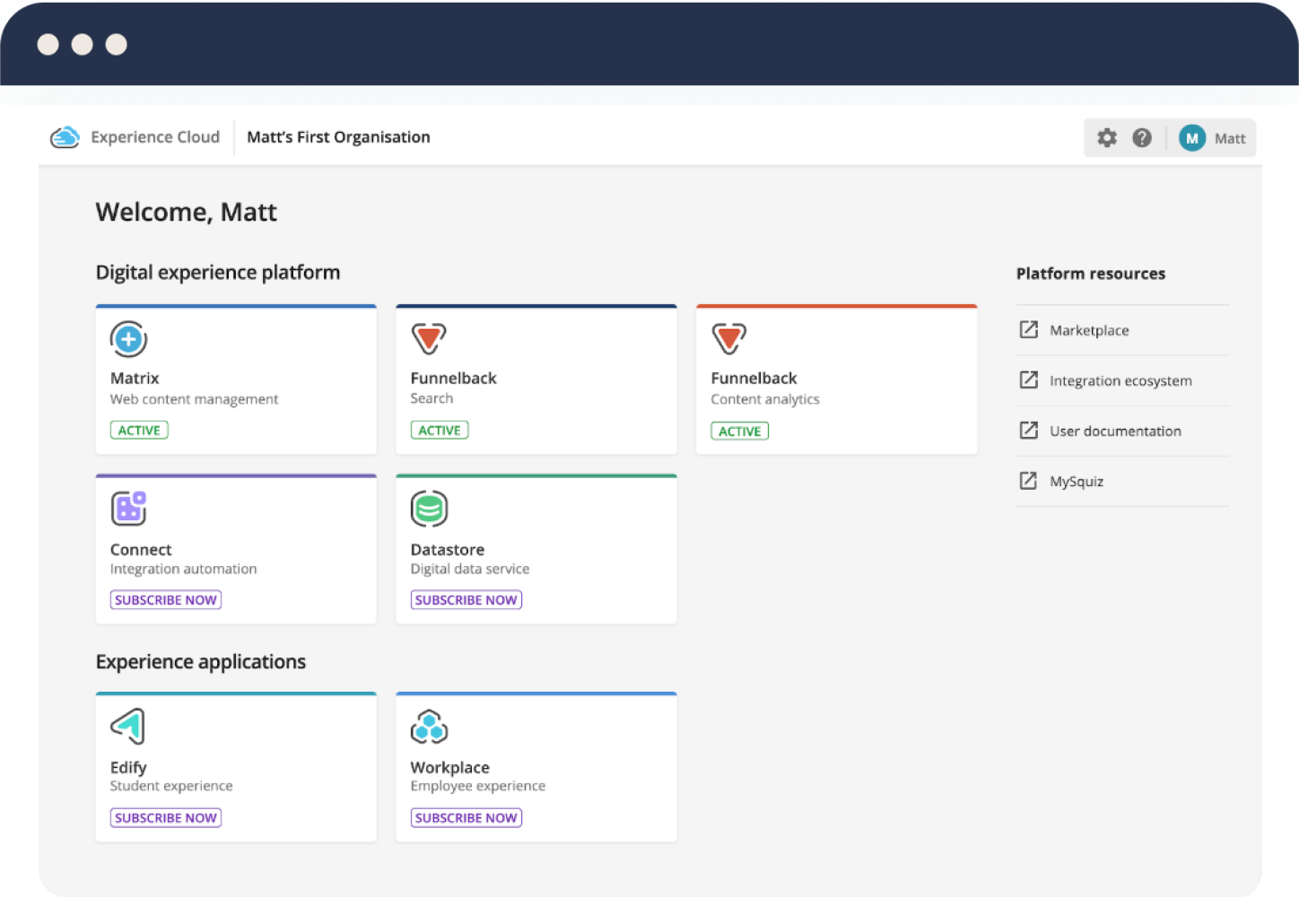 By bringing all of the organization's CX stack together, on one open and cloud-based digital experience platform, customers will benefit from all the added security, speed, and performance of cloud computing, while teams will be able to collaborate and create better experiences more effectively.
The cloud experience doesn't just centralize and unite your CX capabilities – it also centralizes and unites the people and process tasked with delivering CX:
PaaS vs On-Premises DXPs
While most open DXPs offer easy integrations, enabling organizations to take advantage of 'best-of-breed' capabilities, regardless of whether they're hosted in the cloud or on-premises, there are an increasingly important set of benefits offered by cloud-based solutions.
A better experience for customers
As customers spend more and more time online, and expectations increase, speed, and security will become vital in delivering enhanced digital experiences.
In a post-COVID-19 world, the ability to access online information and services in real-time, uninterrupted, is non-negotiable; in fact, some experts have pointed out that cloud computing could have prevented the outages that led to thousands of citizens being left without access to key government services during the height of the pandemic (The Conversation, 2020).
A better experience for teams
Adding new tools to your CX armory shouldn't equate to an overly complex tech stack. Cloud offers teams a single, centralized environment where they can easily view and switch between DX solutions and perform multiple tasks to deliver sophisticated experiences, in a simplified way.
In addition, cloud-hosted DXPs often include automatic upgrades, ensuring that your organization is always working with the very latest and best version of the platform.
Scalability and time-to-market
The ability to scale bandwidth requirements enables organizations to respond proactively to unexpected spikes in demand, making significant efficiency gains. PaaS solutions take these efficiency gains even further by enabling organizations to develop, run and manage applications without the time and complexity of building and maintaining the infrastructure typically associated with developing and launching an app.
Cost
Return on investment for a critical business solution, such as a DXP, is as much about the ongoing maintenance and operating costs as the initial ticket price. On top of the ability to scale, increased user efficiencies from centralizing all CX systems, and regular releases of new features, cloud-based DXPs offer high automation, compared with on-premises or hosted system deployments, creating faster project cycles and lower operating costs.
One of the few areas where on-premise DXPs provide a clear advantage is in the ability to control the initial implementation process and create integrations with existing tools; but this only applies to closed DXPs, since open DXPs are purpose-built to facilitate integrations.
Create the Ultimate Cloud Experience
For organizations looking to get the most out of their DXP capabilities, optimize their technology investment, and deliver the best possible customer experience, increasingly the question is not if, but when to migrate to the cloud.
The Squiz Experience Cloud enables businesses to re-imagine their customer experiences, replacing an overwhelming tech stack and siloed data with a simple, fast and engaging environment for accessing and managing the digital ecosystem.