Now - Sep 2023
Get a comprehensive view of your customers and personalize their experiences with Squiz's Customer Data Platform (CDP).
Collect and unify first-party data from many different sources, generate a 360-degree profile of each customer, automatically segment based on behaviors, events, demographic information and more, to deliver personalized experiences across channels.
With CDP you benefit from:
Simple data collection and unification across systems, channels and devices
Fast to get started and use for small, non-technical teams
Easy integration with CMS, CRM, LMS or marketing automation tools
Secure and controlled environment for managing citizen, student or customer data
Practical marketing dashboard to measure personalization success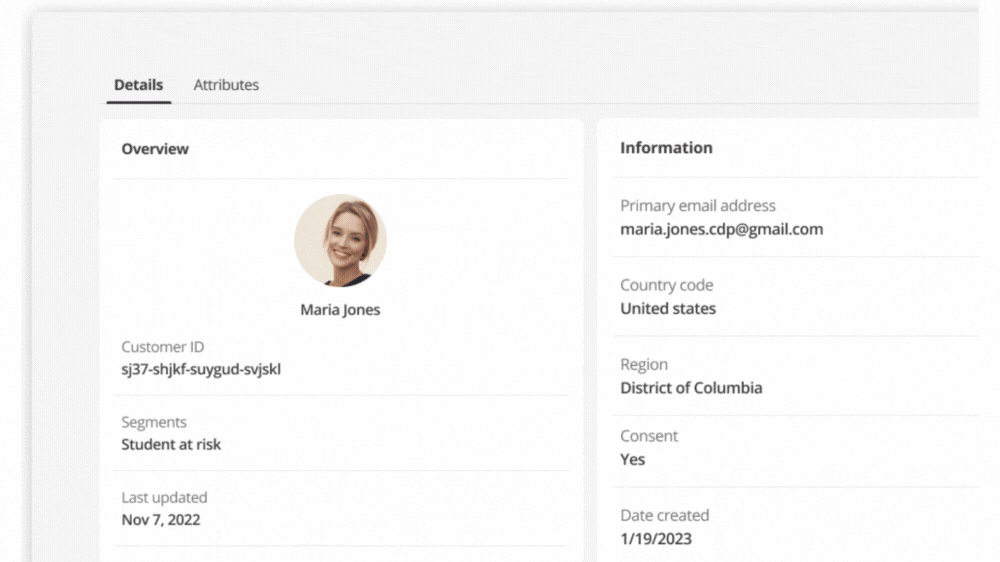 Remove the need for custom code and improve your customer's search results with Squiz Search Plugin Library.
Access an extensive plugin library, in a user-friendly interface, for non-technical teams to extend and improve their search capabilities.
Using Squiz Search Plugin Library, you benefit from:
Access to 35+ search plugins
Fast, easy and non-technical way to improve your search results
Simple yet powerful data manipulation, for example injecting keywords into queries or customizing headings
No custom coding and remain on an automatic upgrade path
Available plugins are listed on the plugins screen, which can be accessed from the navigation panel within the search dashboard.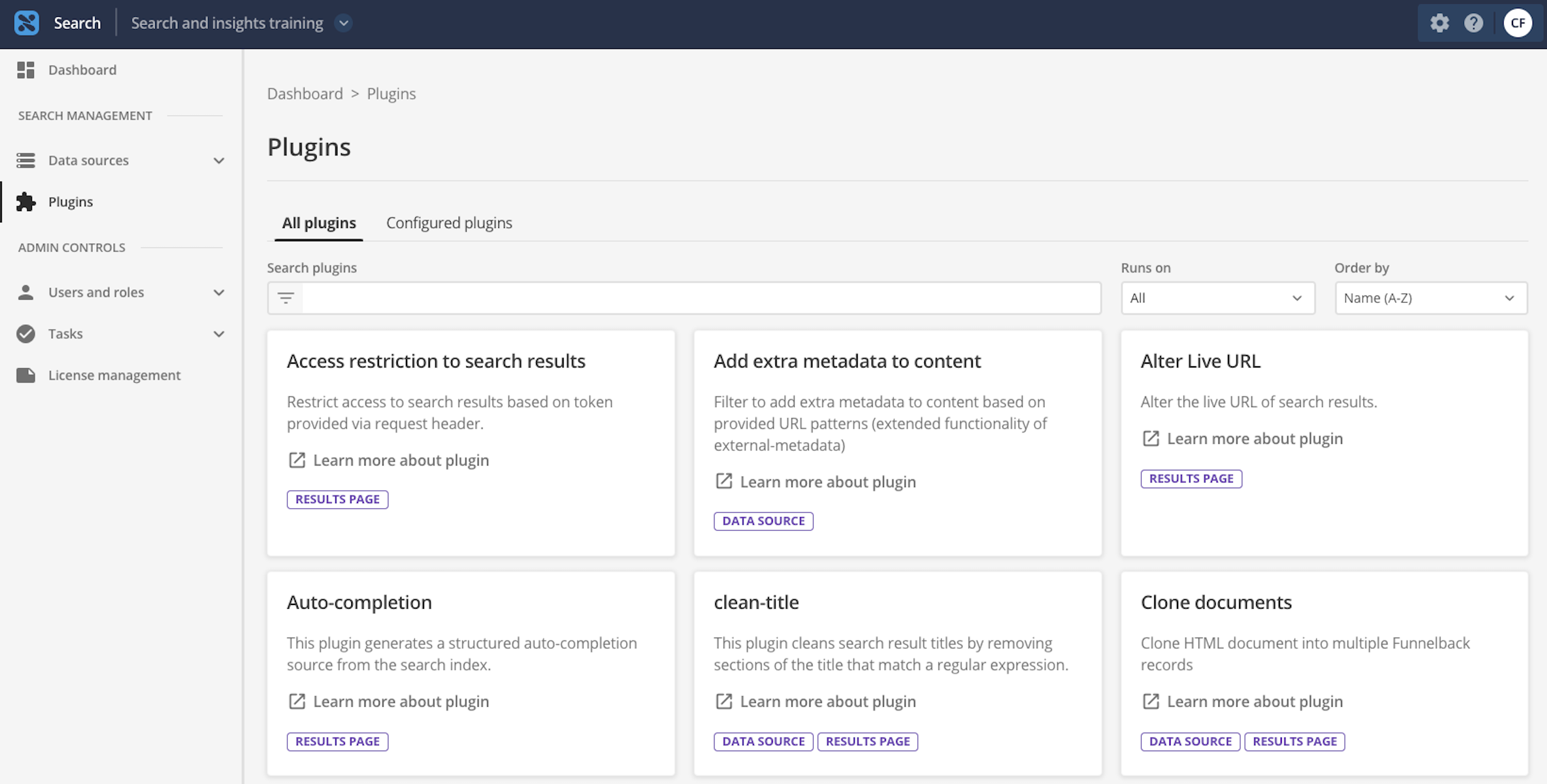 Non-technical users create basic and dynamic forms fast with Squiz Advanced Forms.
No developer reliance is needed with a drag-and-drop builder, predetermined form fields, customizable logic, and fast delivery across websites, apps, portals, email and more.
Using Advanced Forms you benefit from:
User-friendly, non-technical user interface
Assurance of meeting WCAG 2.1 accessibility standards
Visibility of all forms in a centralized location
Easy integration with other digital solutions
Secure data collection, storage and compliance with GDPR regulations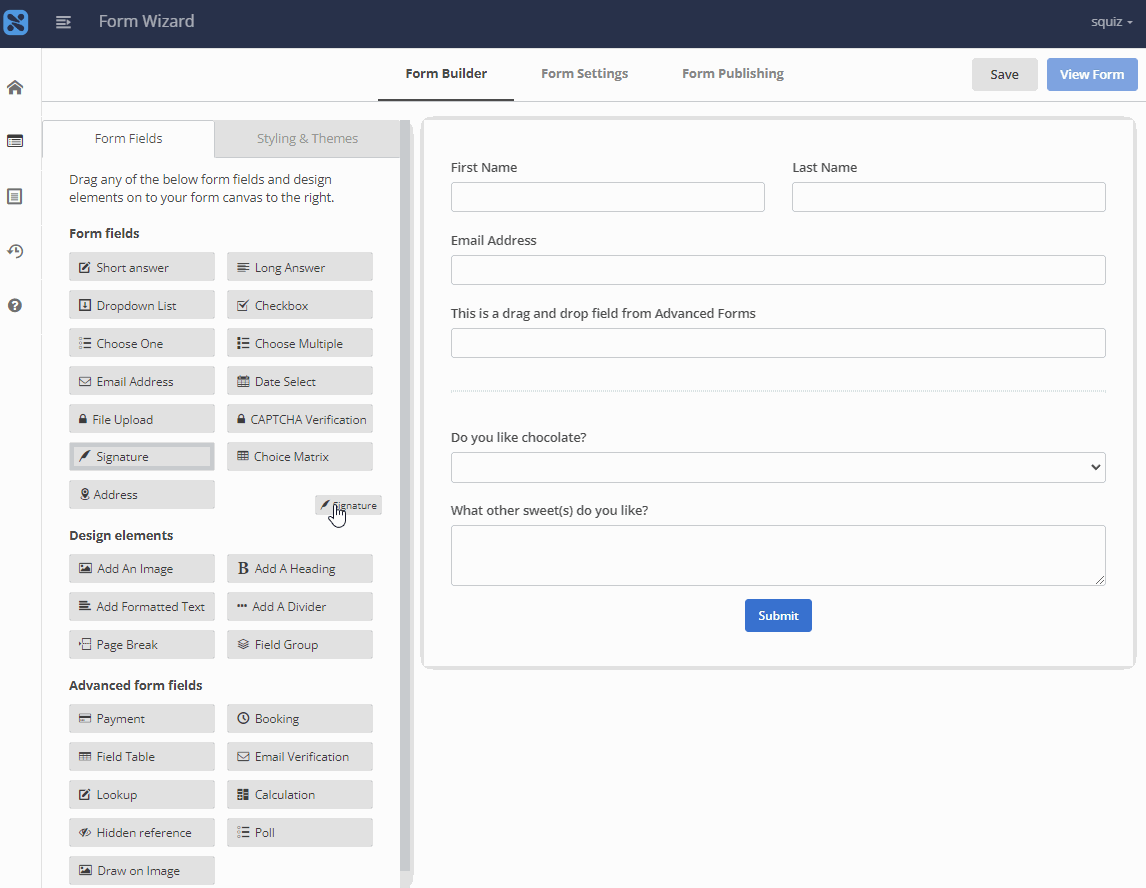 Oct 2023 - Dec 2023
Build web pages fast in a Modern Page Builder and increase conversions with A/B Testing.
Experiment with different versions of content tested on selected audiences. Test content, page components or a whole web page by randomly choosing a version to display and instantly see the highest conversion rate.
Use the new Modern Page Builder to get started with A/B Testing right away.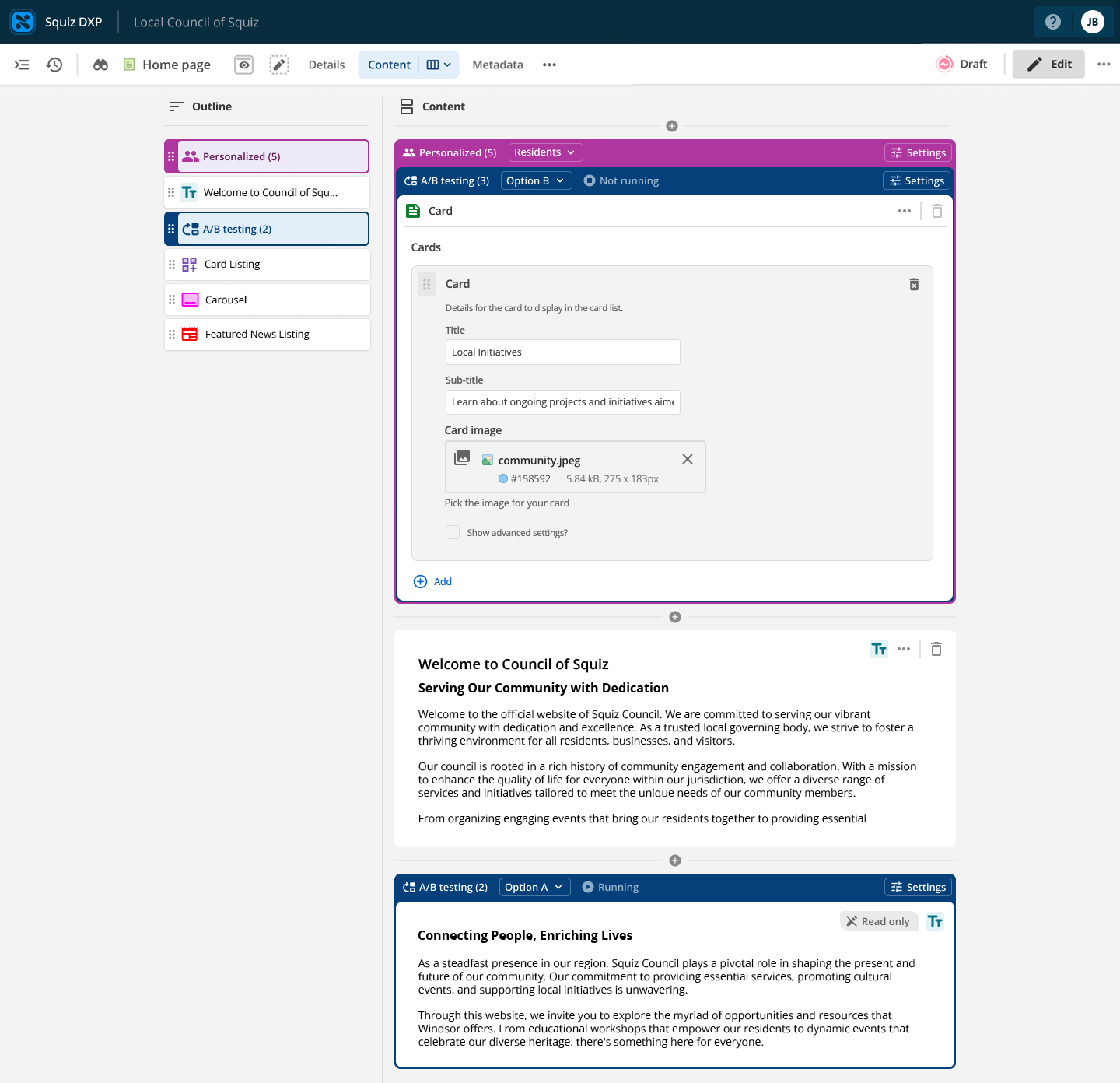 Developers are no longer needed to create basic components, as all Squiz DXP users get access to 10+ ready-to-use Base Components.
Design elements within each component can align easily with your brand, making it fast for you to get started and use.
Some of the Base Components developed will include Advanced Forms Embed, CDP Consent Banner, and a variety of content components to display content on your web pages in various ways.
Automate and optimize processes with the Flowingly Pre-built Integration. A drag-and-drop solution, Flowingly is a business workflow tool that reduces time spent on time-consuming tasks, reduces manual intervention, minimizes errors and increases overall efficiency.
The Flowingly Pre-Built Integration instantly connects Flowingly to your Squiz DXP, and can automate processes across different agencies, departments, teams or functions.
Local Councils optimize operations by automating citizen service requests (such as pothole repairs or garbage collection), the approval of building permits and inspections, public meeting agendas, outreach campaigns, complaint resolution, and much more.
Government agencies automate the application review process for permits, licenses, benefits or contract approval. Route applications to the appropriate departments, track their progress, and send automated notifications to applicants.
Higher Education institutions can automate admissions, enrollment, academic advising, research grant approvals, and more.
All service-based organizations can continuously optimize their workflow and increase efficiency by analyzing data and making adjustments.
Allow editors, developers or users to log in to all Squiz DXP capabilities with a single ID using the Identity Provider (IdP) Integration.
Reduce password fatigue with automatic verification of your user's identity and generation of the necessary credentials, for them to gain access to the DXP tools they need.
Streamline logins, boost user (and organization) security, and maintain compliance by integrating with the IdP of your choice, such as Okta, Microsoft Azure AD, Google Workspace, Shibboleth, OneLogin and many more.
Get early notifications of errors, anomalies or security risks with Real-Time Alerts.
Make sure your organization is always protected with continuous monitoring of key metrics and activities across your platform. Real-Time Alerts uses predefined rules, and identifies any unusual patterns, potential issues, or critical events.
Responsible parties receive real-time notifications through designated channels and emails for immediate attention.
Easily keep track of how well your digital ecosystem is performing with Experience Monitoring.
Monitor experiences from one location, such as how long it takes for your pages to load to how users interact with your website, helping you make ongoing improvements.
Even if you're not technically savvy, Experience Monitoring makes it easy to identify issues and troubleshoot them independently, without needing IT support or specialized help.
Experience Monitoring collaborates with Real-Time Alerts to send out automatic notifications for instant attention.
Effortlessly manage custom scheduled or ad hoc tasks like one-time data imports and asset status reporting using the Job Scheduler.
Developers effortlessly submit job files to the Squiz DXP and determine interaction frequency using a secure and efficient toolset.
Using the Job Scheduler, developers can easily:
Execute scripts for CMS asset synchronization
Automatically publish static sites following content updates
Streamline data flow onto the DXP
Perform extended jobs to sync content, publish static web apps, and integrate data
Jan 2024 - beyond
Pre-built components will continually be added to the Component Library.
Designed for optimal user experience for service-led organizations - specifically government agencies, local councils and higher education institutions - these pre-built components will support an even faster build of specialized websites, portals, intranets and apps.
Your customers will find the information they are looking for even faster with Search Advanced Curator. With an improved and more intuitive user interface, it will be even easier for your non-tech teams to create rules and fine tune search behavior.
Allow diverse and dispersed teams to collaborate on tasks and access only the resources they need with DXP Roles and Permissions. Define user roles, allocate resources to teams, and allow user access based on their roles and permissions, for all capabilities in your Squiz DXP.
Improve project management and oversee teams, to build digital experiences faster.
Take advantage of benefits:
Streamlined Collaboration: Simplify team creation, role assignments, and resource allocation.
Increased Productivity: Customize roles and permissions to boost productivity and speed up project completion.
Resource Optimization: Align roles and permissions with resource allocation to enhance utilization efficiency.
Craft a robust intranet in days, not weeks or months, with the Pre-built Intranet Components. No coding is required as these components are ready to use out-of-the-box. Select the components that are right for you, configure to match your unique needs, and deploy your intranet.
Intranets can be deployed as a standalone solution or tailored to suit your organization's specific needs.
Improve page layouts and streamline the editor experience during page editing using Section Layouts.

Added within the new Modern Page Builder, it empowers content editors to craft dynamic landing pages by incorporating section layouts. This enables them to seamlessly integrate components and content into various editable sections like columns, without developer intervention.

This facilitates the creation of improved page layouts, granting content editors greater autonomy and agility in page design without relying on developer resources.
Squiz's new Modern Page Builder incorporates enhanced Multilingual Content Editing to simplify the publishing your content into various languages.
This enhancement will allow content editors to seamlessly create and preview content across languages, streamlining the localization process. Additionally, developers can utilize the API to integrate automated content translation, further enhancing the organization's content management approach for global audiences.
Roadmap archive
Explore our product roadmap archive to see product milestones of previous quarters.