Shared Services Connected Limited (SSCL) provides essential business support services to 29 UK government departments, the Ministry of Defence and Police, across functions like HR, payroll, accounting and contact center. The scale is big — SSCL services touch more than 300,000 civil servants, 200,000 members of the Defence forces, two million veterans, as well as ensuring that government bills are paid.
Understanding the needs
For SSCL's Contact Centre Program Director, Carl Johnson, the expectations of employees for modern, easier ways of finding information and doing admin tasks, and the business driver of reducing the related support service cost, both pointed in the same direction: enabling more employee self-service online.
"We needed to modernize, recognizing that the ways that people engage have changed. Once upon a time, phone calls and emails were fine. Today, there's more expectation that you can just find the information you need to help yourself online - and the phone call or email is a last resort."
However the starting situation was complex. Each department had its own intranet or staff portal, own terminology, and own employee admin processes. Many employees found it easier and quicker to ring the SSCL contact center than to try to find their answer on their intranet.
Initially, Carl and his team considered that a user-friendly internal website with up-to-date information about SSCL support services would be the best first step forward. It was at this point - in 2019 - that Squiz was engaged, the project starting with discovery sessions to explore and better understand business and employee needs.
From the multiplicity of individual, and regional contexts and requirements, some common themes began to emerge. Above all, for consistency and predictability in information and task completion, and 24/7 access to information on employees' own devices.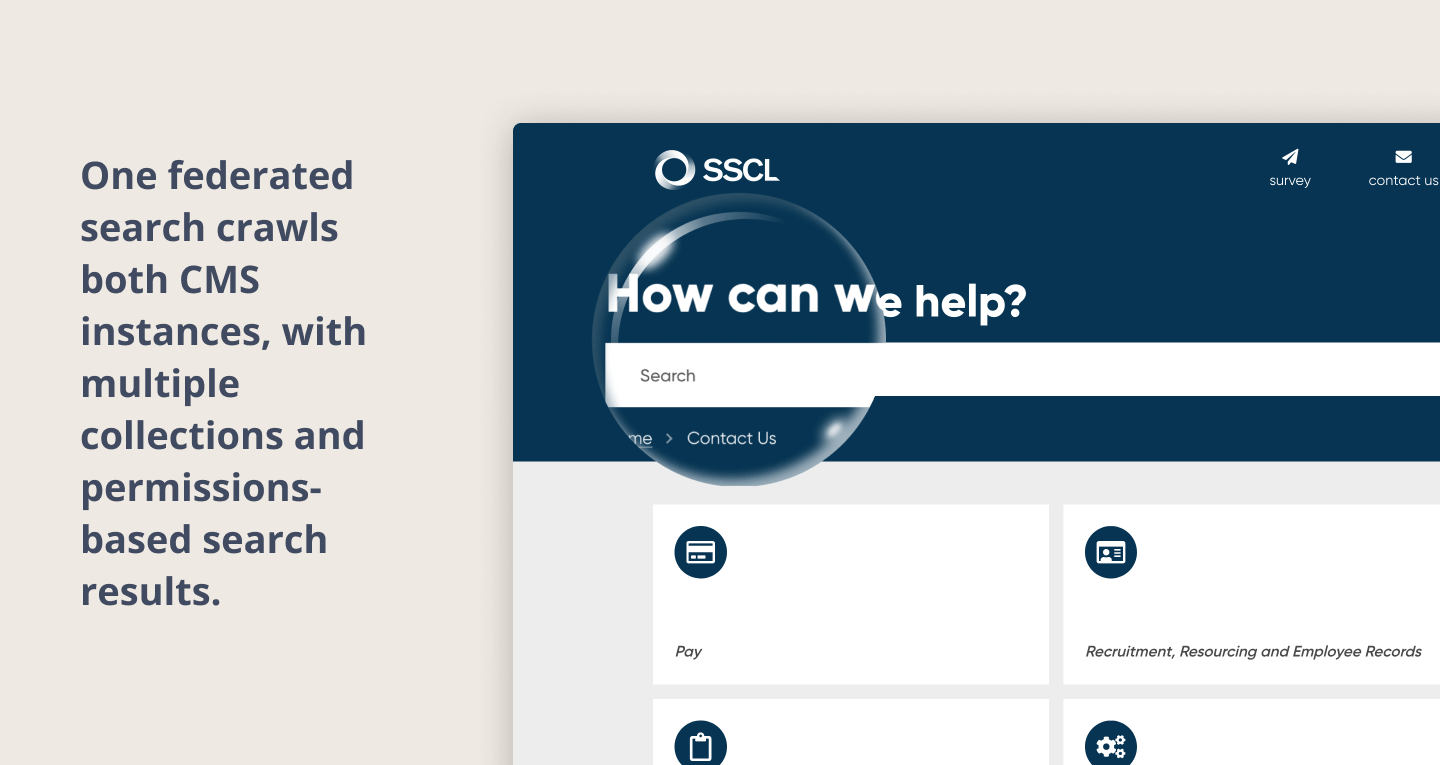 The discovery phase findings produced a reframing of the desired business and user outcomes and informed a more ambitious solution design with a phased multi-year delivery.
In phase one, the employee intranets and portals of participating departments were replaced with employee hubs, all based on a design framework allowing centralized management by SSCL.
Squiz built nine hubs, spread across two instances of Squiz CMS to allow for differing security requirements. One federated Search crawls both CMS instances, with multiple collections and permissions-based search results.
Each hub contains its own Department-required content, typically amounting to some thousands of web pages.
Efficiency gains and employee experience wins
Immediate efficiency gains were achieved by freeing up department staff previously involved in employee intranet management - now centrally managed by SSCL; further gains came with the ability to standardize information and to easily share it across multiple departmental sites - create once, and reuse.
Department employees are able to use their own myHub account anonymously from within their department's network, or to log in for additional individualized features; and via Single Sign On, signing into myHub automatically signs employees into their other systems.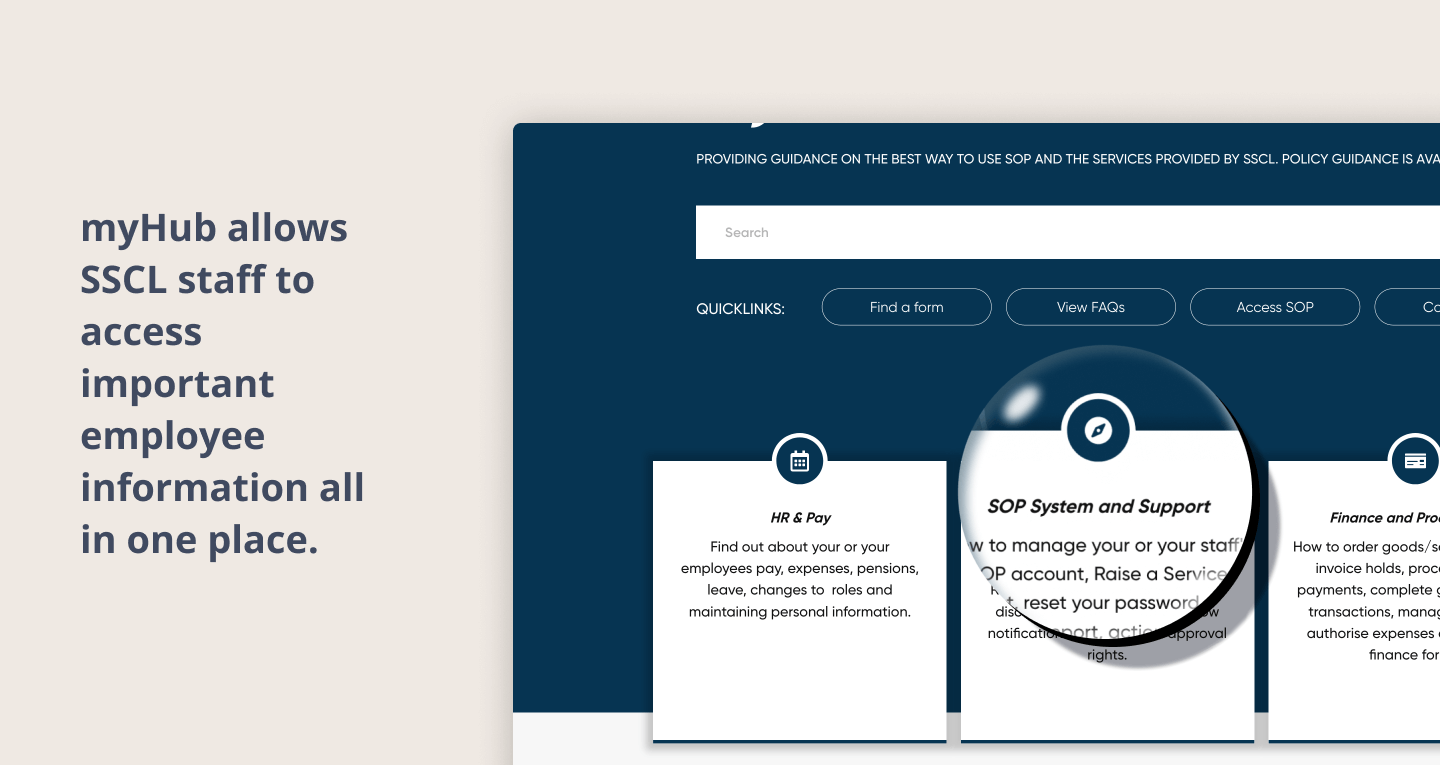 All myHub users benefit from improved wayfinding and search guidance to the right information, form, or action, with additional light personalization for logged-in users. Popular myHub features include:
Personal dashboards - jumping-off points to high usage information like my payslip
Live chat with a contact center agent via integration with Amazon Connect
Predictive search term auto-completion, and a helpful 'search concierge'
Favoriting my commonly used content or links on myHub home page
A form-finder chatbot
Usage stats for phase one show myHub is hitting its mark. At the time of writing, nine government agencies have migrated to myHub, and hundreds of thousands of employees use it regularly.
Calls to the SSCL contact center have reduced, as employees can more easily find for themselves the right information or action online, or chat with a contact center agent in myHub.
Next steps: myHub forms
November 2022 marked an important milestone, as the first back-office connected web form goes live on myHub. The form is only the first of many now easily built and deployed across one or any number of departmental hubs by SSCL staff, thanks to an integration between Squiz CMS, a workflow management solution, and a new common API layer.
Over time, this will allow employees to do ever more of their staff admin tasks within myHub itself, and digital workflows will replace more manual processes.
As Carl Johnson says, "I came into this project all those years ago, really with the view that we're going to build just a fancy website. But as we've gained familiarity with the Squiz platform and its capabilities, we've learned how to gain real business results, principally through modernizing and improving the employee experience to make routine stuff easier to do."