A project between three councils in West London, the Digital Services initiative brings together Hammersmith & Fulham Council, Royal Borough of Kensington and Chelsea and Westminster City Council in an effort to consolidate sovereign service provision and lower costs.
Project objectives
Improve customer satisfaction levels
Consolidate disparate search platform
Improve efficiency of monitoring and control
Identify and implement cost savings
Background
All three councils already had existing search solutions in place, but were looking to replace three different suppliers with a single offering.
A key priority was flexibility to match existing capabilities, and provide future-proof functionality for website changes, expansion and maintenance.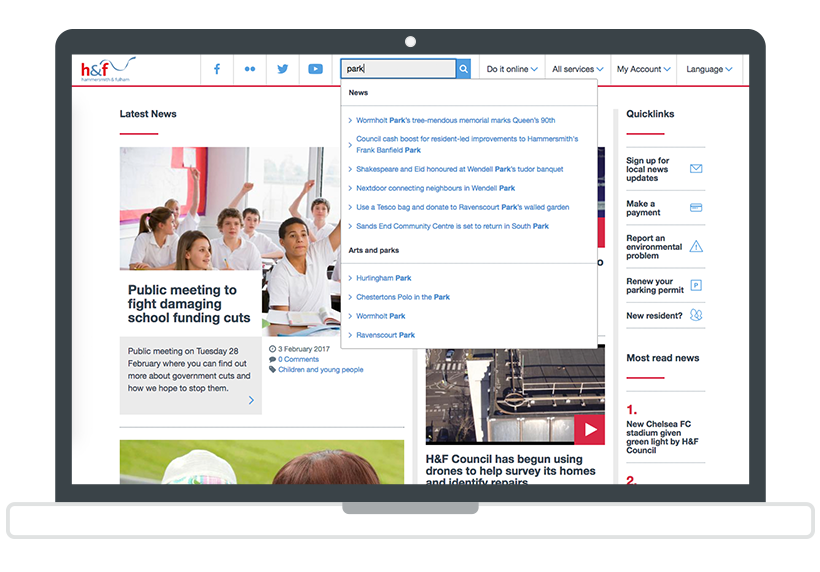 Structured auto-completion example for Hammersmith and Fulham Council (as at 10 February 2017).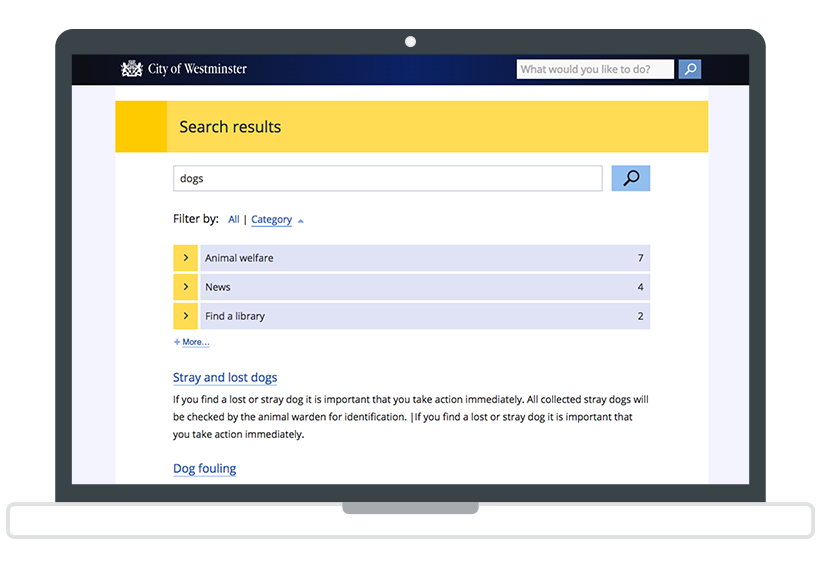 Use of categorised search for Westminster City Council (as at 10 February 2017).
However, this is easier said than done. With so many stakeholders, who all have experience and expectations from their existing platforms (GSA, SOLR Apache and Thunderstone Search), the challenge was to agree on a brand new fourth solution with more benefits and flexibility than any of their previous systems.
The solution
Having discussed the merits of all three existing options at length, including the limitations they offer in terms of control, access, reporting and the use of metadata; the stakeholders from all three IT teams agreed that the opportunity to move to a more flexible search solution should not be missed, even with the potential upheaval it might bring. This was where the Funnelback search team were pleased to be able to help and the process of working on a fresh, user-friendly search solution for the Digital Services project began.
The result
With a relatively tight timeline to replace the search solutions due to the lengths of contracts left in place with previous suppliers, the technical team at Squiz had their work cut out.
Initially indexing almost 80,000 pages over the three websites, as well as over 14,000 PDF documents, the search solution had to be capable of guiding users through a myriad of content, as well as providing efficient and intuitive back-end control and maintenance options.
Working with the designated technical teams from each council, Squiz responded to the challenging timelines and capability requests by rolling out a proven, robust and relatively low impact solution. It met the deadlines set and provides an immensely better experience for end-users than that offered by its predecessors.
The fresh Funnelback search allows all three councils to use external metadata to provide categories for their auto-completion, helping guide a user from the very first character they type within their search. Metadata-faceted navigation and Contextual Navigation is included within the search results landing page, guiding a user by allowing them to narrow down on the precise information they were looking for, without the need to sift through hundreds of results.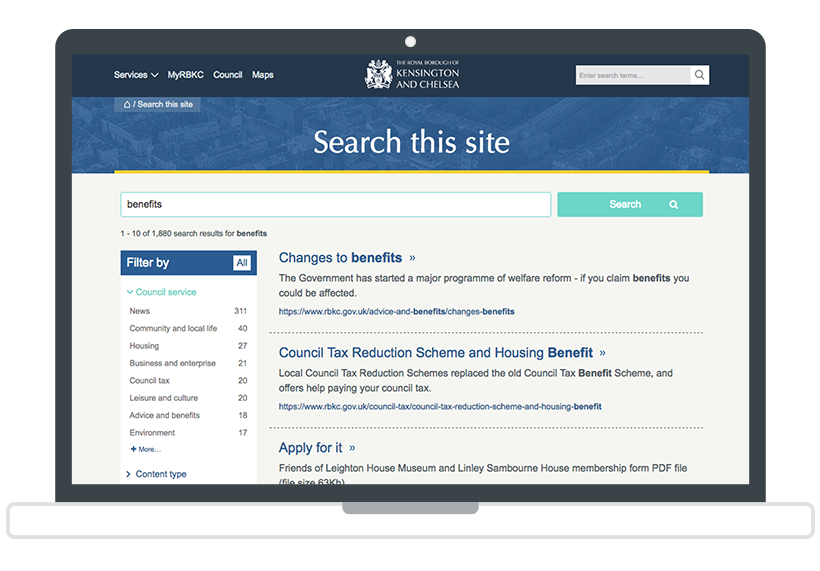 Metadata-faceted navigation example from the Royal Borough of Kensington and Chelsea website (as at 10 February 2017).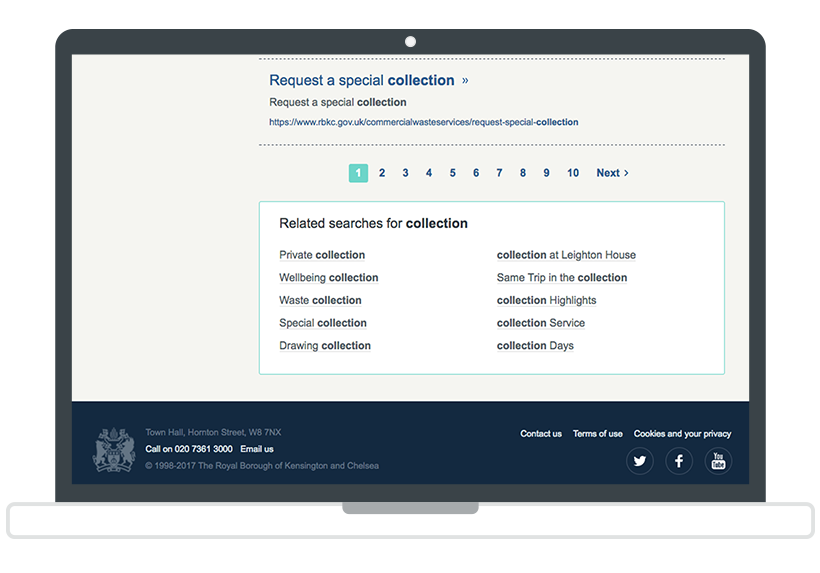 Contextual Navigation on the Royal Borough of Kensington and Chelsea website (as at 3 April 2017).
Another key element of the project was to improve the user experience and ensure that the solution had the capability to do so in the future. Funnelback search and its user-friendly interfaces make it simple for users to add or remove additional microsites and secondary repositories from their search with ease, ensuring that the solution can effortlessly evolve and grow inline with the business over time.
More than simply improving the experience for front-end users, the project exceeded expectations in the back-end too; allowing administrators to have full visibility and control over result rankings, search analytics, content auditor tools and collection management.