For over a decade, Drupal 7 has acted as one of the leading open-source content management systems. But as we explore later on, its market share has been decreasing over the past several years, while many of its customers still choose to avoid updating their systems to later versions. This is stopping Drupal from settling on a firm date for the End of Life of Drupal 7, creating uncertainty amongst its customer base and community.
As Digital Experience Platforms become increasingly sophisticated and built-for-purpose, it's worth asking if the functionalities of Drupal 9 and the newly released Drupal 10 are worth the time and effort or if you should migrate to a different platform.
What does "End of Life" mean, and why is it happening?
"End of Life" (EOL) simply refers to the period of time when a product or software version no longer receives support from its manufacturer or developer. This means that security updates, bug fixes, and other improvements are no longer released for the product.
Developers and manufacturers end support for their products for a few reasons:
Cost and resources: Maintaining a product means allocating time, money, and personnel to it. A manufacturer may need to pull those resources for different reasons, from technological advances to business pressures. In the end, they have to make a profit and continue to evolve their product offering.
Technological advancements: If a product becomes outdated or obsolete due to new technological advancements, the manufacturer or developer may end support for it and encourage users to migrate to newer and more advanced products.
Legal and regulatory compliance: If a product doesn't meet the necessary compliance requirements, especially new laws that are introduced, the manufacturer or developer may choose to end support for it.
What's the most important thing for a manufacturer to provide during the End of Life process? Answers. And throw in a bit of consistency, support, and reliability. And that's where the trouble with Drupal 7 comes in.
After a decade of providing support for web applications with Drupal 7, the company announced that it would cease support by November 2021.
But that date has been pushed back not once but twice to November 2023. In fact, Drupal now says, "We are announcing that moving forward, the scheduled Drupal 7 End-of-Life date will be re-evaluated annually."
Why? COVID-19 was said to be a big part of it, but the reality is that such a large chunk of Drupal's customer base remains on Drupal 7 (as we show further below), that the company is forced to keep refreshing its EoL date.
What happens next?
With the End of Life of Drupal 7 date still uncertain but inevitable, Drupal is encouraging Drupal 7 site owners to upgrade to either Drupal 9 or Drupal 10 before the EOL date.
A lot has been happening over at Drupal, and customers have had to make a number of decisions quickly.
Drupal 8 already reached its end of life in November 2021, while as we already mentioned, Drupal 7's EoL keeps being pushed back. And then there's Drupal 9, which already has Drupal 10 nipping at its heels with its new features – some of which are yet to be announced.
We'll say it for you…we're struggling to follow this.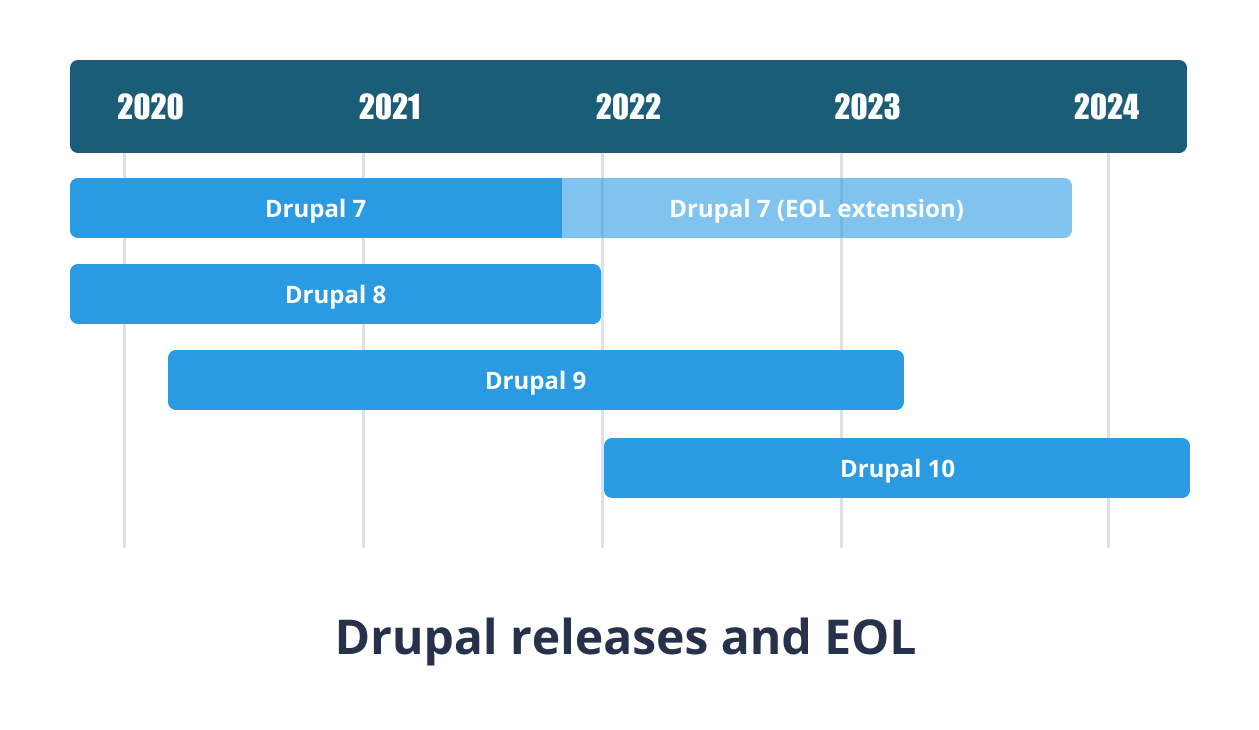 The fact is – there are still so many organizations on Drupal 7, so Drupal can't stop its support easily. Just take a look at their own usage statistics below to see that usage of Drupal itself has been declining since its peak in 2015/2016 and that roughly half of its user base still remains on Drupal 7. Yes, that's Drupal 7 in red there.
Upgrading from Drupal 7 to Drupal 9 or 10 requires a significant migration, as these later versions have major architectural and API changes from Drupal 7.
While Drupal does provide tools and resources to help site owners and developers with the migration process – including migration modules, documentation, and community support – it is far from an easy automated process.
Should you risk staying on Drupal 7?
Every organization is different, and business pressures might be tempting you to stay with Drupal 7. But the short answer? No.
The fact that Drupal has made clear that no further core commits (updates to its core code base) will be made to Drupal 7, any organization running on Drupal 7 will inevitably need to update its system in the future to avoid falling behind.
There are a number of risks if you choose to stay with Drupal 7 in the long term. While you'll continue to have some level of functionality with Drupal 7, there are risks because this software will cease to have the same level of support it enjoyed throughout its life, leaving you vulnerable in different ways.
Security risks – The limited security fixes that were offered through the Drupal 7 Extended Vendor Support program came to a halt in early 2022, so staying with Drupal 7 now opens you to significantly more security threats. The community-based Drupal Security Team will stop monitoring Drupal 7 and releasing their important security advisories and updates. Importantly, after November 2023, Drupal 7 may be flagged as insecure during third-party scans as it will no longer receive support. This could impact your integrations and functionality.
Maintenance and cost – Firstly, there is the cost of staying secure. ​​Sites staying on Drupal 7 will become increasingly vulnerable to security breaches as vulnerabilities are discovered but not patched. Site owners will need to invest in additional security measures, such as firewalls, intrusion detection systems, and regular security audits to mitigate these risks. But then there's the increased cost of maintenance to keep sites compatible with browser updates, server software, and third-party integrations. All of these pressures will come with less and less community support within the Drupal system, requiring organizations to invest more and more into their own maintenance teams.
Stalled progress – In the end, offering your customers and users the best possible experience and product is key to any business's success. Staying on Drupal 7 does mean that you will save money and time in the short run. But you risk not being able to meet the evolving expectations of your customers and providing a poor user experience as you struggle to maintain your site/s without the full support of Drupal. Finally, the technical debt that comes with Drupal (e.g., ​​the accumulation of old code) can jeopardize your ability to scale quickly and effectively. All of this comes together, potentially blocking you from differentiating yourself from your competitors and growing your business.
Should you upgrade to Drupal 9 or Drupal 10?
If you're running on Drupal 7, you don't need to migrate to Drupal 8 before 9. The two are very similar, and while Drupal 9 features improvements on 8, it maintains backward compatibility with Drupal 7.
And then there's Drupal 10. You might be wondering, 'Will we have to go through it all over again in a year's time for Drupal 10?'
Don't worry. While the jump from Drupal 7 to 9 is a bigger leap, Drupal 10 is just an incremental upgrade so there's no need to rebuild and migrate your data. There will be new features in Drupal 10, such as its administration theme, Clara, replacing the existing Seven, and others that are yet to be announced.
However, there are some challenges or issues you might face in migrating from Drupal 7 to a newer version:
Compatibility issues – As part of updating to Drupal 9, you'll need to identify which modules you have running are available on the new system. If certain modules aren't running Drupal 9 versions, you'll need to check if their functionality has been replicated in Drupal Core or shop around for similar modules that run on Drupal 9. In other words? A potentially lengthy and costly manual process of putting the puzzle together.
Data and code migration – Migrating data from Drupal 7 to Drupal 9 or 10 can be a complex process, especially if the site has custom modules or custom code. Meanwhile, Drupal 7 sites may have code that is not optimized for Drupal 9 or 10.
Features and functionality – Drupal 9 and 10 offer new features and functionality that were not available in Drupal 7, which means that developers may need to re-implement some features and functionality.
Time and cost – As updating isn't a truly automated process, more complex projects may be time-consuming and costly, which is why half of Drupal's customers probably remain on Drupal 7.
Should I switch to a different DXP?
That's the better question! To answer it, consider whether or not Drupal satisfies the expectations we have today of DXPs and where we expect them to go in the future.
Up until 2015, Drupal was often employed as a framework in which multiple functionalities were integrated using a monolithic architecture. From Drupal 8 onwards, the company has worked towards an API-first architecture and while the coupled front-end is still available, you can set up Drupal as API-first and use front-end techniques to display your content.
But there are reasons why customers, especially those on Drupal 7, are choosing to move to different DXPs, as shown by its decreasing user base. Some of these factors even beg the question – is Drupal a true DXP?
End of Life concerns – Drupal's hazy approach to End of Life for its versions has clearly led to hesitation amongst its users, leading to an even split between Drupal 7 users and those who have migrated to newer versions. Many might be wondering if the grass is greener with a DXP that doesn't leave them high and dry but includes automatic updates.
The pitfalls of community support – When issues surface with software maintained by the Drupal community, there's always the risk that users may be left to resolve the problems on their own, incurring significant costs.
No multi-site management – The core benefit and appeal of DXPs for site managers is the ability to easily manage data and content across different instances, i.e., apps vs online. Drupal users are forced to replicate their work across all their instances, which can increase maintenance costs.
Technical debt – We mentioned this earlier. Those remaining on Drupal 7 (and those who choose to remain on newer versions as upgrades are made available) increasingly accumulate legacy issues from old code or processes. This comes with increased security vulnerabilities and poorly performing products.
Evolving expectations – DXPs are the norm today, and there is a thirst for manufacturers who build their products as DXPs first, not after the fact. Drupal's somewhat slow uptake of DXP functionalities, especially a lack of multi-site management and not having automatic upgrades, leaves it in the dust compared with other DXPs.
Migrating to Squiz DXP
If you're a Drupal 7 site owner, you inevitably need to invest in an upgrade to your system at some point, whether it be with Drupal or another DXP. This means it's worth considering what other DXPs like Squiz offer compared with Drupal.
Squiz DXP allows you to come as you are, adding or swapping tools from any vendor into our composable DXP, without having to re-platform. As a truly built-for-purpose and scalable DXP, Squiz:
owns and manages its products, so is able to quickly respond to changes in customer markets, rolling out new features when needed.
offers automated scripts and a dedicated migration tool – Transform – to streamline the process, as one of the fastest and simplest migration methods available.
provides comprehensive support on all Squiz products year-round, by a team that's backed up by cloud monitoring tools – to ensure a high-performing, secure website.
How long does it take to migrate to Squiz?
Migrations to Squiz are typically completed within 12 weeks or less. You can gain access to a more intuitive, efficient, and secure technology that will improve the experience you offer customers and the returns offered by your digital platforms.
The Squiz Transform migration tool automates much of the migration, limiting errors, speeding up the process, and giving time back to your teams. It does this by automatically lifting and shifting your content to Squiz while also testing the end-to-end migration of your website in the cloud.
What about downtime?
With Squiz migrations, there's minimal downtime. While a content freeze is required, this step is usually completed within 24 hours, meaning your content teams can continue to work throughout the migration process. Rigorous trials beforehand mean that teams often know in advance how long the real migration will take, enabling them to plan business activities accordingly, with minimal disruption.
Can't decide?
That's okay – as we know, the deadline for Drupal 7's End of Life is just as likely to be extended beyond November 2023 due to the ratio of Drupal customers still using it, so you have some time. But waiting too long risks introducing security vulnerabilities and poor functionality as Drupal increasingly shifts its support to Drupal 9 and its newly released D10.
If you're stuck making a decision, first take the time to get to know where things are going with Composable DXPs as they replace monolithic systems, then look to see if Drupal can meet your requirements in the future or if other platforms can offer a smoother, automated transition.