If the last few years have taught us anything, it's that the way organizations work and interact with customers will never be the same. Many organizations have realized the need to accelerate their digital transformation strategy and focus on providing a personalized digital experience for their customers and employees alike. To add to the complexity, organizations are now also experiencing the economic aftermath of the pandemic and its impact on finances, with teams feeling the squeeze and the pressure of having to do and achieve more digitally with less budget.
Given all of these challenges, Squiz is proud to offer a solution that allows organizations to build the digital ecosystem they need, on their terms. And this is why Omdia has named Squiz a leader in the Digital Experience Management (DXM) space for the second year in a row. Omdia's Selecting a Digital Experience Management Solution 2022-23 report assesses vendors across the DXM space, reviewing their differentiators and strengths. The report provides an unbiased third-party perspective on each vendor and explores Squiz's Digital Experience Platform (DXP) offering and potential in detail.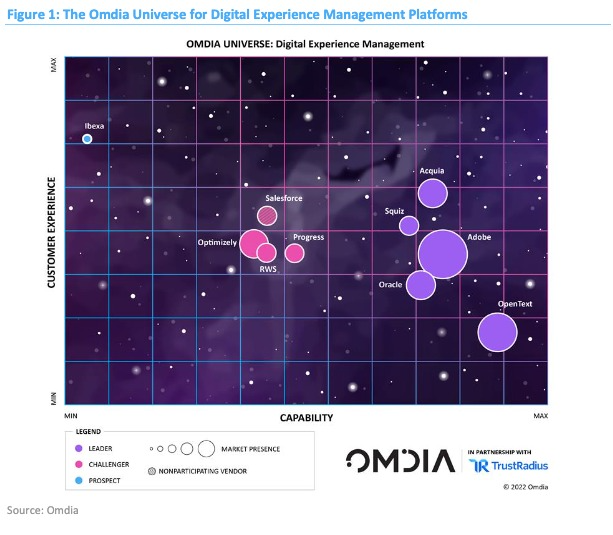 According to Omdia, the Squiz DXP is a 'flexible, fully integrated solution', offering a wide range of functionality in the DXM area [...with its] own search engine, Funnelback, which it has embedded into its DXM platform.'
The description highlights Squiz's approach to providing real solutions that address the customer's problem reducing the complexity of 'digital' and empowering them to achieve their digital experience goals.
This approach enables organizations to unify their customer experience and create, deliver and orchestrate consistent content from one platform.
Squiz encourages customers to come as they are! With an open API architecture and low-code connectors, the Squiz DXP will integrate with the customer's current tools and allow them to add to their ecosystem, accessing new capabilities when they need them over time.
In addition, Squiz offers itself as an expert partner in strategy, design, and build - customers never go it alone, Squiz is invested from start to finish.
After 20+ years of experience working with organizations on digital projects, and streamlining technical complexity, Squiz is honoured and proud to be named by Omdia as a leader in the digital experience management solution space.
Get your copy of Omdia's Selecting a Digital Experience Management Solution report, 2022-23.