When it comes to student portals, consider the bar officially raised. While they may have been in existence for decades, the new post-pandemic expectation is a student portal that matches – and even beats – the on-campus experience.
For those universities who get it right, the rewards of an engaging, intuitive, functional student portal can directly influence future success.
Griffith University, based in South East Queensland, recently increased its student retention by 11% after launching its new student portal. With more than 500,000 sessions per month, the portal enjoys a level of engagement that ensures students can stay connected and informed throughout their entire university journey.
But what does that actually mean for universities looking to wow and retain their new students, without biting off more than they can chew when it comes to budget and resources?
Here's what to consider when (re)building your student portal.
Cover the basics
A student portal enables your students to find all the information that they need.
Emphasis on the word 'they' – because the portal should be entirely personalised and relevant to the user, not a 'link farm' or a mass of information that they have to sift through.
Students have a "job to be done" when visiting your portal, and you want to make it as easy as possible for them to get a satisfying outcome.
Layout
The main purpose of a student portal is to make life easier for students.
Administrative tasks such as enrolling on classes or paying fees are a chore, and students simply want to go back to doing what they are here for - studying.
Therefore, UX discovery and a deep understanding of your student's behaviour will help you shape what your student portal should include and look like.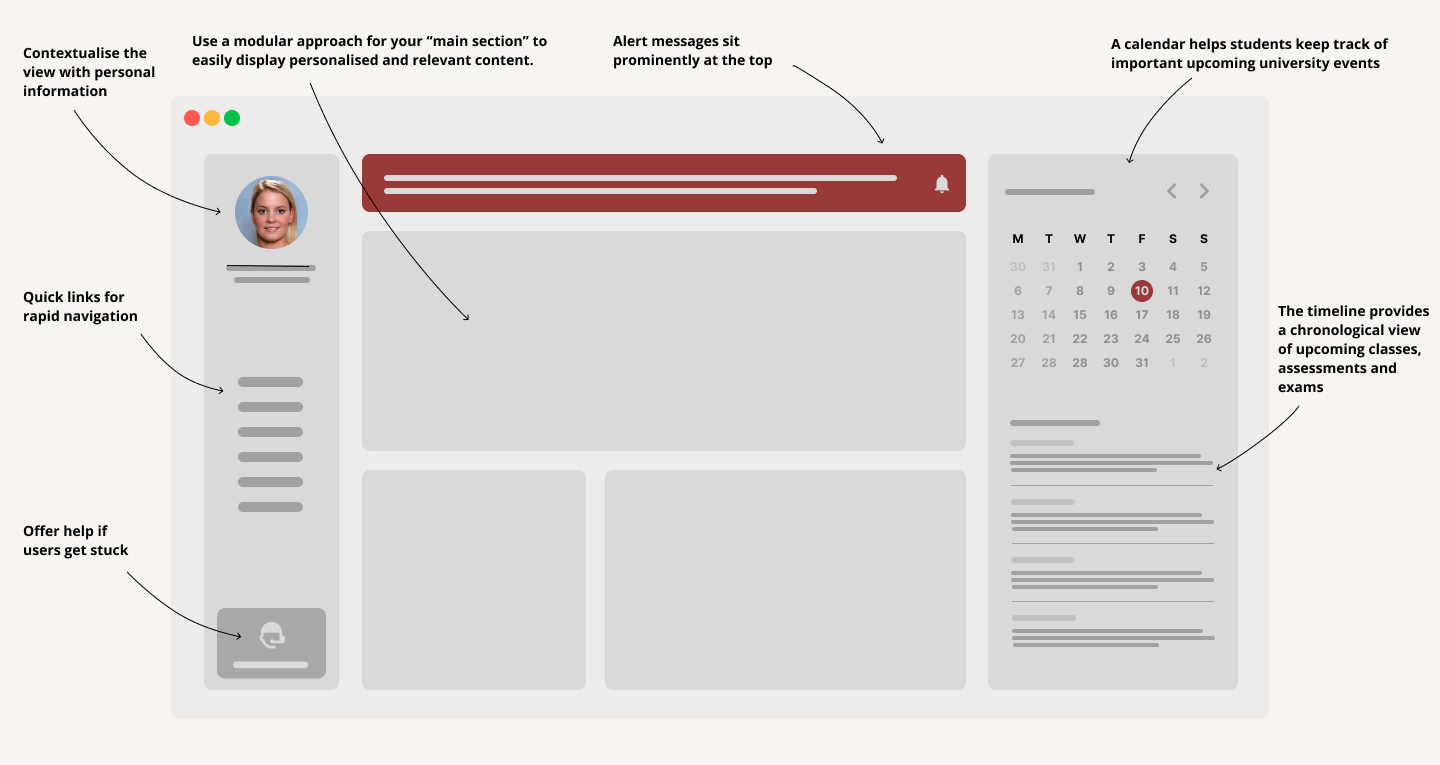 There are of course many ways to display information on your student portal homepage. However, some elements tend to be present in a majority of portals.
Alert section: urgent or important information is displayed at the top in the form of a slim and colourful banner to quickly get the attention of the students.
left-end side: following the UI design pioneered by social media, personal information such as the user's photo, name and course studied are shown at the top. This gives confirmation to the student that they are in the right place (aka this is their account). The panel also offers quick links to other areas of the portal (or at the top, like a regular website navigation bar) and an option to contact support.
Right-end side: this is where the calendar and information timeline live. At a glance, students can see upcoming events, but also classes and assignments.
Body: the core of your content will live in the middle section. Based on your user research, you can decide what is most appropriate to show for each student: university news, grades, fees, etc A "modular" approach (aka smaller panels) allows you to easily personalise the content, showing "widgets" based on users' preference.
Information to include
At a basic level, a portal should include the following:
Enrolled courses: to allow students to manage (defer, change or cancel) their courses
Upcoming lectures: to maximise class attendance (which directly impacts academic performance)
Grades: to help students track and manage their performance
Assessment deadlines: to minimise missed assignments
Learning resources: to ensure students can always easily access essential information - especially vital for 'at risk' students
Event calendars/timetables: to enable students to plan and attend social and course-related events, directly impacting their engagement
Contact directory: to help students connect with the right person, 24/7
While this might sound pretty straightforward, universities still have a lot of integration work to do to deliver an optimal portal experience. Indeed, close to half the students surveyed claimed that they still have to log in to three to four different platforms to access all the information that they need.
Other information you can choose to display in a student portal:
student mailbox: either fully integrated or with a link to a third-party service
Psychological support: on-campus psychological support can be key to retaining students likely to drop out for personal reasons
Accommodation information: very useful at the start of the year, especially for new and foreign students
Library: allowing students to search the library catalogue directly within the portal can dramatically improve the student's experience
Data integration
The most challenging part of a student portal is to build a robust API that can easily access and surface data from all your different services and present the information in a convenient format for the student to see.
This can include your learning management system (LMS), student data systems (grades, finance, etc) and any other internal software to present the information in a convenient format for the student to see.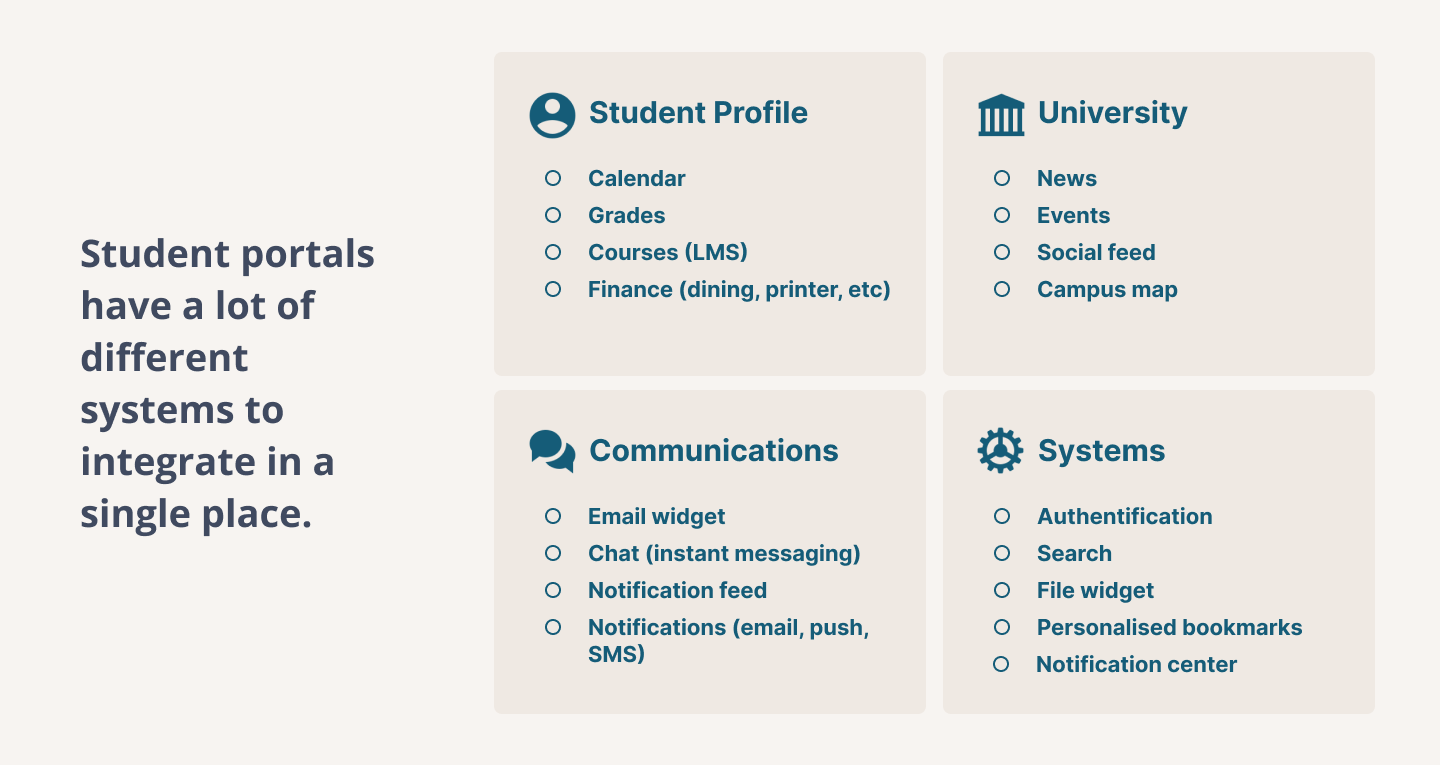 Many student portals integrate 5 or more different systems at any given time. Having a central location to store all this information is one way to achieve a 360-degree view of a student profile.
Personalised information
Since students have to log into your portal, they'll expect you to know who they are. Their expectation is to only see the information that's relevant to them, nothing more.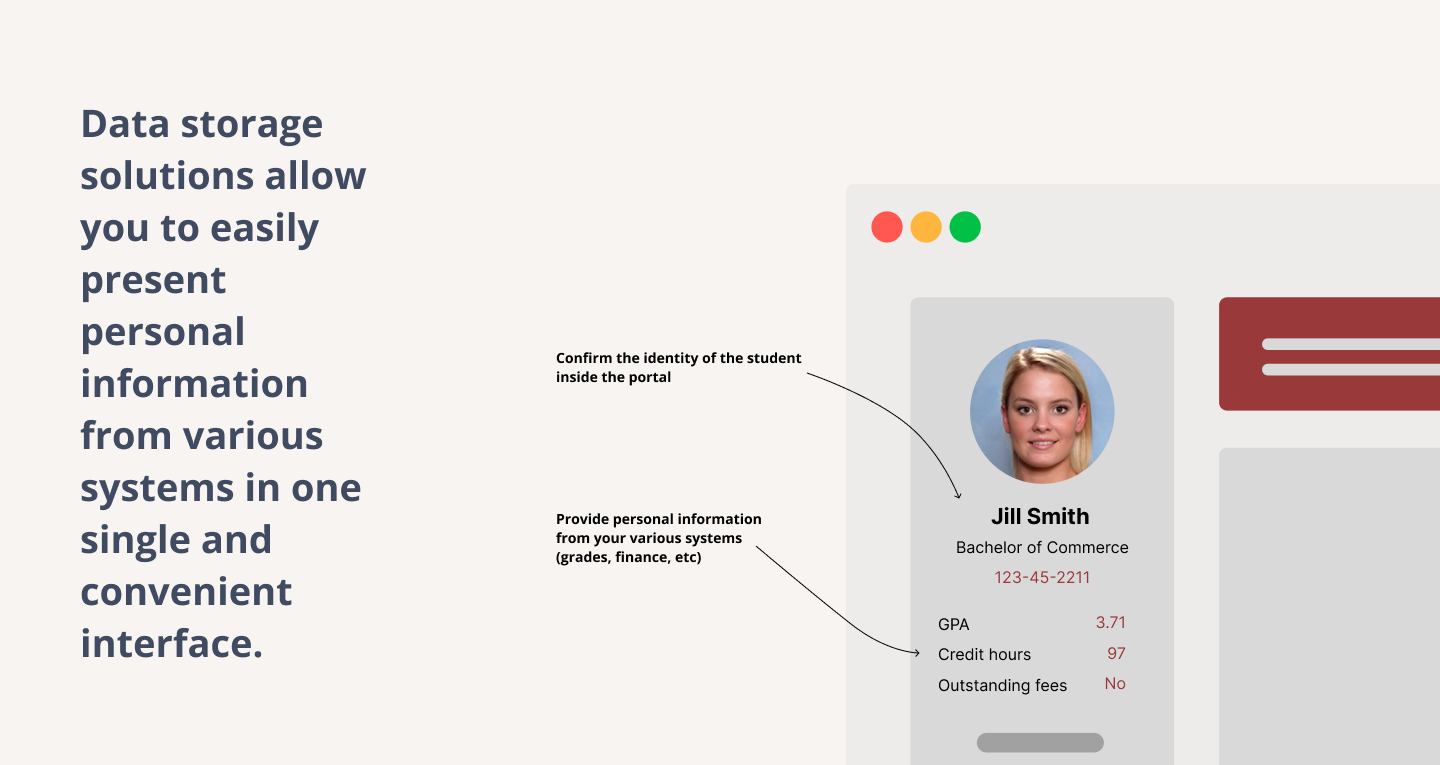 In fact, a majority of new students confessed to being overwhelmed by the sheer amount of information shared by the university when they first start their studies.
The solution of course is to personalise the content they see in their student portal - show them what is relevant and important to them and discard the rest.
International vs local students
Given the significant financial importance of international students to universities, developing a unique and engaging experience for these students should be a top priority.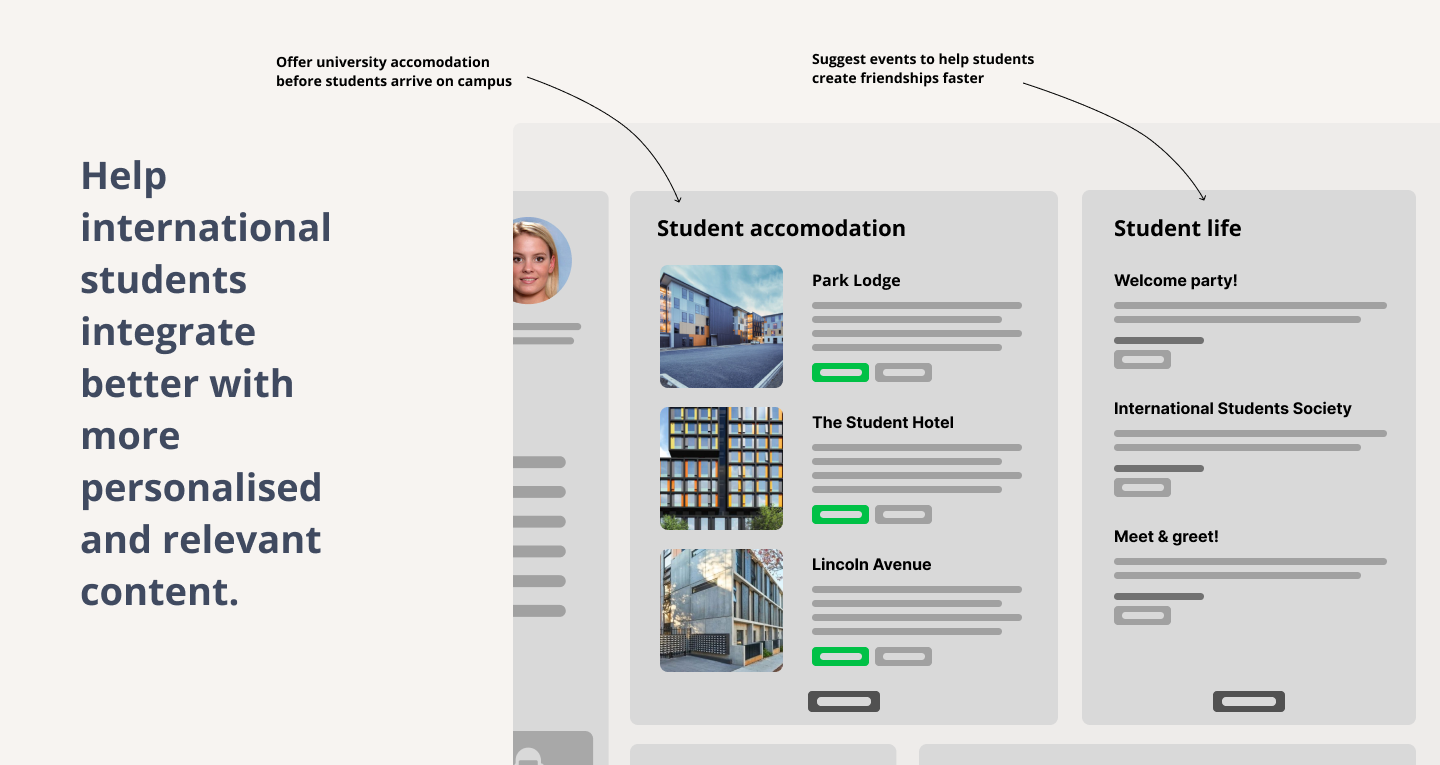 Serving up helpful information about relocation, accommodation, and social groups early in the year – even including phrases in their native language on banners – can help students feel welcomed and supported.
Undergraduate vs postgraduate
Undergraduate and postgraduate students have very different needs.
The former want more information that will help them settle into their university life, make friends and make the best decision about their studies.
The latter is already well integrated into their university, and instead needs more assistance with internship opportunities, career options or accessing research grants.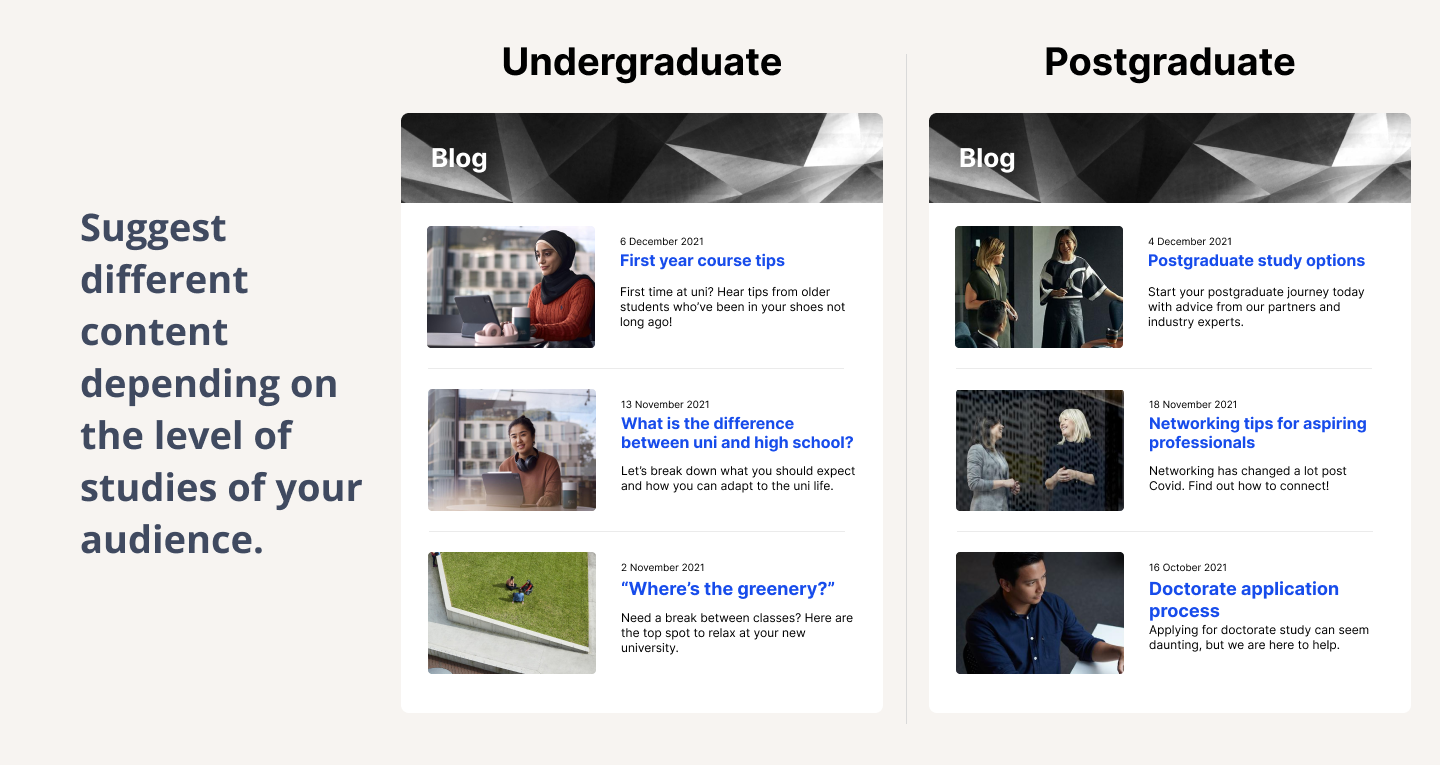 User preferences
Some universities take personalisation one step further and simply personalise the content on all their web properties (student portal, but also a website) based on user preferences.
For example, Griffith University uses a widget on its Study page to ask visitors about their studies preferences, level of studies or desired campus. Information is then personalised in real-time for the user.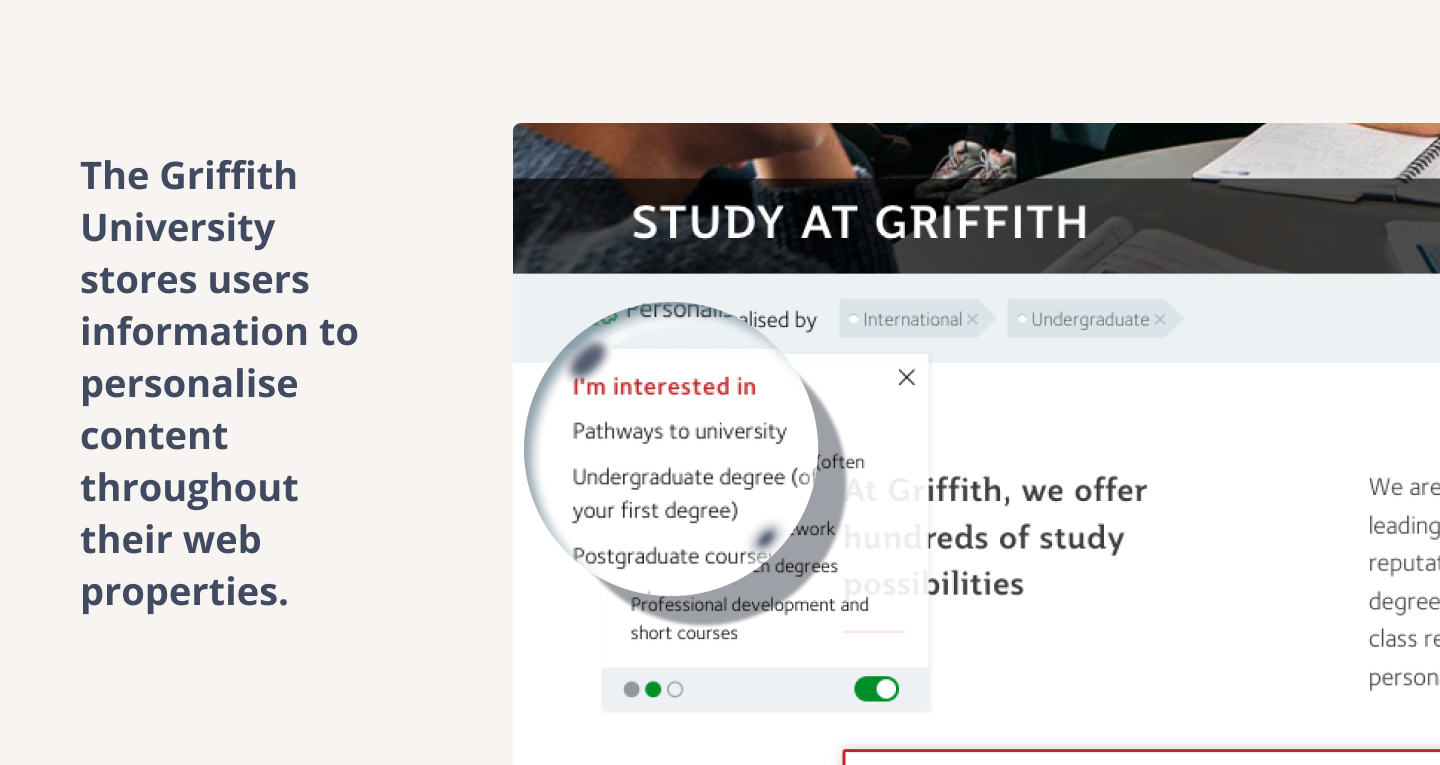 The user profile is then stored in a cookie for future visits.
What about mobile?
There's no surprise that students spend the majority of their time on their phones, so making your student portal accessible on this device is a must.
But which approach should you choose: responsive or mobile app?
From our experience, it highly depends on the budget of the university and the level of engagement they want to achieve with students.
At a minimum, most universities have some kind of mobile responsive version of their student portal, even if they had to strip down features along the way.
Bigger universities with time and budget also create a native app (IOS and/or Android) for the ultimate user experience. Not only will your design be perfectly adapted to the smaller screen and allow you to push the boundaries of the mobile experience, but you will also greatly benefit from the power of native notifications (more on this later).
For lesser budget endeavours, a cross-platform app is the next best option. Instead of developing two native apps side-by-side, you can develop a single app that will work on both OS with solutions such as Flutter. The result is not always as smooth as it would have been with a native app, but the savings are significant.
The downside of course is that app maintenance is difficult and expensive.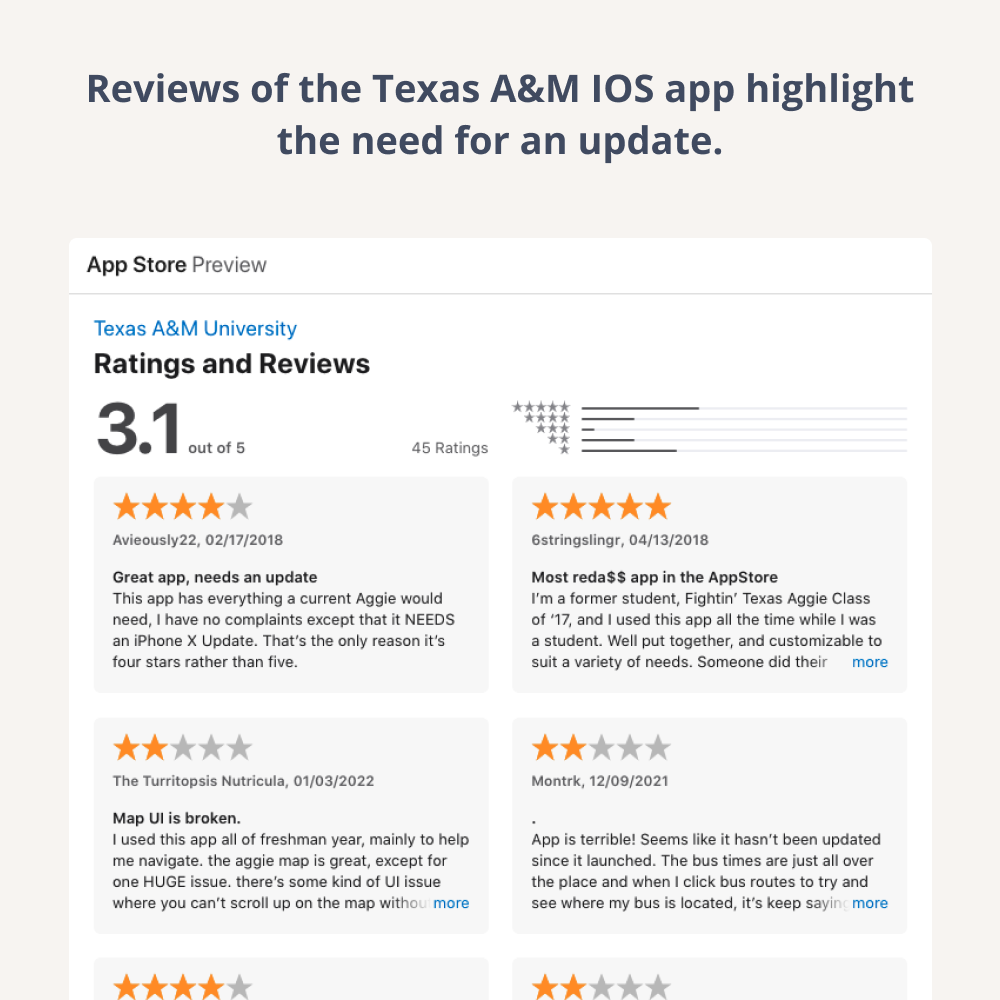 Many universities haven't updated their mobile app for over a year, showing that it takes dedication and a certain level of budget to pull it off, without seeing an immediate reward.
Another downside of developing an app is the friction of downloading yet another app for users. To give you an idea of the scale of the problem, less than 1% of Pinterest and Twitter visitors on mobile convert to signups and app installs for iOS and Android.
Notifications
Students will rarely visit your customer portal on their own unless prompted.
Communication is one of the key benefits of a student portal, and the ability to notify students about news, events or admin tasks is vital to keep them engaged with their university.
By far, push notifications made available on mobile apps are the most effective, with an open rate as high as 90%.
Email is still a highly effective communication tool with students, but email open rates in higher education typically sit at around 24%.
SMS notifications have taken on a bad reputation over the past few years, due to their use by scammers of all kinds. Use them only for important and time-sensitive information where push notifications are not available.