50% of web users go straight to the search bar to navigate a higher education website.
If you are not investing in your site search, this stat alone should give you cold sweat.
But there's more.
According to Alan Etkin, a web analyst at the British Columbia Institute of Technology, "Search revenue is approximately 40% of total site revenue, generated by 10% of site users. Now that's a fine argument in and of itself for investing in site search."
Prospective students using site search during their journey typically convert at 2-3 times higher than those who simply browse.
Another stat to convince you?
Students demand a high-quality search experience and if they don't get it, they'll not only leave your site, with 68% of them never returning.
No doubt, the stakes are high. So what specific challenges are universities currently encountering and what solutions can be implemented to overcome them? Let's find out.
What is holding back university site search?
Universities are facing two major obstacles when it comes to improving their search results: content discoverability and search personalization.
The biggest obstacle universities are facing to improve their search results is having to index content hosted on disconnected content platforms.
Universities often have multiple departments (e.g., engineering, medicine, law) all running on different CMSs and with varying levels of governance. For example, the engineering department might be using Drupal, while the medicine department is on WordPress, etc.
These "content siloes" have made it difficult for central university communication teams to consolidate content and assist users in finding the information they are looking for through site search.
This situation leads to incomplete search results, with different search engines for each school's website, and a poor search experience for the end user.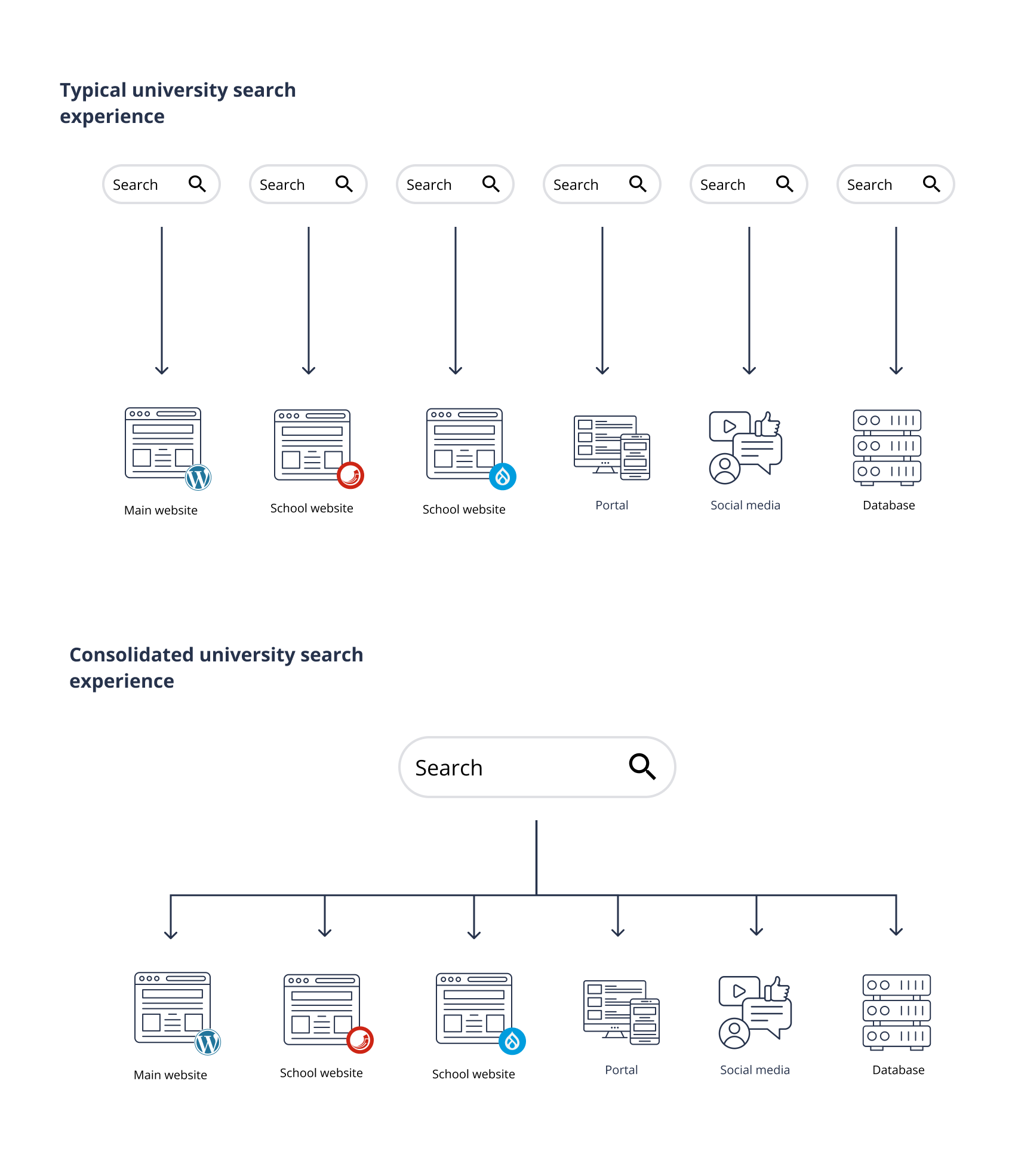 Another challenge: every user expects a different search experience based on their unique needs.
Consider the following user journeys: high school students might be looking for course information, current students might be looking for academic resources or financial aid information, and staff members might be trying to navigate to research papers.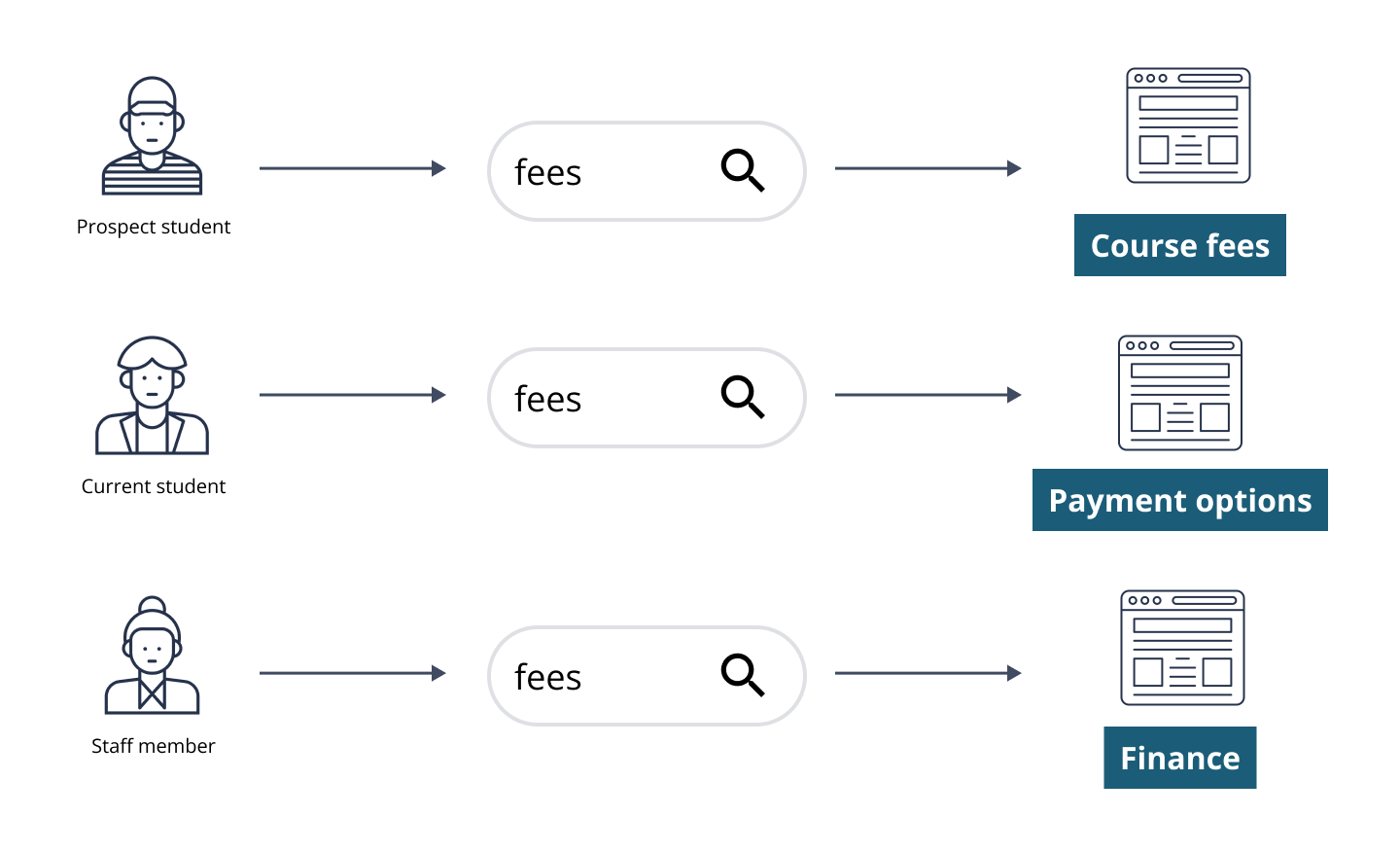 Each situation is unique, and offering the same search experience to all these personas also leads to user frustration. Even if they all use the same search query, the context of their situation can drastically influence the information presented on the search results page.
Improving site search experience for universities
Empowered with these insights, how can universities overcome these challenges? Here are a few suggestions to guide your endeavor.
Displaying results from different platforms
Some search solutions now offer multi-source indexing capabilities, enabling universities to crawl disparate content repositories (e.g., social media, department websites, student portals, etc) and offer a consolidated search engine for all their content.
Users get the confidence that they are indeed getting access to the whole content repository of a university, and are not tempted to switch between school's websites, or worse, abandon their search altogether.
Personalized results
University site search should make it simple for users to identify themselves and filter results BEFORE they even initiate a new search.
A good site search should be able to anticipate the different needs of its users and suggest easy adjustments to improve the search process:
Self-identification: a simple button at the top of the webpage inviting users to "self-identify" into pre-defined categories ("I am a... student/prospective student/staff member...") is an easy way to offer more relevant results to your users.
User signals: the IP address of the session or the page visited can be strong signals indicating what type of personas are undertaking a search on your website. Beware: those are only "signals", and you should always offer the user a way to "opt-out" and come back to a more neutral search experience.
Predictive search for faster user journeys
Implementing predictive search can have the following benefits:
Improved user experience: suggesting the 'right' result, even before a user submits their query, will get them faster to the information they are looking for.
Reduced user frustration: users will not encounter a "zero results" page — since all suggested results have an existing page to redirect to — reducing your bounce rate.
Guide the search: nudge your users toward more relevant (or promoted) results than if they had to scan through your search results page.
Search refinement
In higher education, the search experience can be extremely subjective.
A prospective student and a faculty staff will have different intentions when searching for the term "engineering".
A great site search engine should allow users to refine their results with:
Faceted navigation: typically sitting on the left of the search results, faceted navigation allows you to refine the list of results based on some pre-defined criteria (i.e. price, size, location, etc).
Filters: located at the top of the results, usually in the form of 'tabs', filters let you rapidly switch between different "result views" without any other input.
What search metrics should you look out for?
Search analytics provide metrics that indicate how effective your site search is for users.
Based on those insights, university administrators can run tests and make improvements to increase conversions on their websites.
Any good search report for a higher education organization should include the following:
Sessions with search – The percentage of sessions that use search is a good metric for gauging how well your site search is currently performing, and whether users are having a hard time finding your search bar.
Search terms – View what users are searching for on your website, as well as unanswered queries. Are your top results relevant to the queries? This information will help you highlight gaps in your content or language used and guide your content optimization work.
Search location – Get an overview of where your search users are from, and drill down by country, city, and even IP address. You can then prioritize certain content based on the location of your users.
Trends – Track unusual search behavior on your website (i.e. "cancellation", "support", etc.,) and take appropriate action to remediate emergency situations.
Search refinements – The search refinements metric tells you the percentage of visitors to your website who have to rephrase their search to find what they're looking for. If you're seeing a high percentage of search refinements, this is an indication that your search engine is failing to deliver relevant search results that answer the search intent of your users.
Search exits – similarly, search exits indicate sessions where users are exiting immediately after performing a search, highlighting the lack of relevant results.
There are, of course, more search metrics that you can include in your report, depending on what information you are looking for.
---
Squiz Search, part of the Squiz DXP, offers sector-specific search with pre-built templates for universities and higher education institutions. Get complete control over your search results with valuable insights for continuous optimization.