The world of digital technology is fast-changing and complex. Between 2019 and 2020, almost 1,000 new marketing technologies entered the already overcrowded digital arena (Chiefmartec, 2020), so it's fair to say that one of the toughest challenges today's business leaders face is simply keeping up to date with the latest digital tools and terminology. But, keep up they must.
In previous blogs, we've focused on clarifying the nuanced terminology around digital experience platforms (DXPs) – since that's what we know best. So far, we've discussed the difference between a CMS and a DXP, open vs closed platforms, cloud-based vs on-premises solutions and the benefits of iPaaS.
Today, we're taking a step back and tackling possibly the most widely used term in the industry: experience. More specifically, the difference between a digital experience and a digital service.
What is an 'experience'?
According to the experts (Blake Morgan, a renowned customer experience futurist), 'Customer experience (CX) is the sum of all contact; from first discovering and researching a product to shopping and purchasing to actually using the product and following up with the brand afterwards'. That's a pretty big sum.
As CX has risen higher up the priority list for organizations looking to secure both customer loyalty and their long-term prospects, 'experience' has quickly become an umbrella term, encapsulating every technology, tool, business function and job title related to improving how their customers feel when they interact with them online.
The operative word here is 'feel' because, in reality, not every touchpoint in a customer journey should necessarily make them feel anything.
In fact, as Aarron Spinley, Growth and Innovation Evangelist at SAP, recently explained, "you are going to a theme park. You need to find a space to park your car, go through security… and get one of those mighty cool wristbands. But you didn't go there to enjoy the car park or the queue to get in, right?" (ZDNet, 2020).
What Spinley describes here, superbly, is the difference between a service and an experience. Spinley's point is that, by incorrectly bundling all customer online interactions together under the term 'experience', organizations are confusing the difference between services (which should be simple, fast, functional and forgettable) and experiences (which should be enjoyable, memorable and build loyalty).
The Evolution of Digital Services
Improving digital services has become as important for the public sector and higher education as CX has become for the private sector. In recent years, governments across the world have ramped up efforts to transform digital service delivery, with the creation of departments such as the UK's Government Digital Service (2011), the U.S. Digital Service (2014) and Australia's Digital Transformation Agency (2016), to name a few. Government departments that previously lagged behind are now waking up to the mutual benefits of an improved digital citizen experience, which can provide better services for citizens as well as significant efficiencies for over-stretched call centres and service teams.
In higher education, an industry that has been transformed overnight by the impact of COVID-19, the ability to offer students easy access to vital university services and information online can directly impact enrolments, course completion rates and, ultimately, an institution's future success. Unfortunately, many higher education institutions have been completely unprepared for the sudden demand for online services, with 37% of US students finding sharing and collaborating on student data 'very difficult' (Salesforce, 2019).
Examples of Digital Services
Knowing the difference between a digital service and a digital experience is, clearly, hugely important. Following Spinley's logic, unlike an experience, a digital service is a transaction – offering something useful or valuable – that should be so fast, easy and intuitive that it should be almost invisible. The ideal journey is one that enables customers to complete the tasks they've set out to achieve quickly and easily, contributing positively to the customer's overall experience of the organization.
So, what exactly constitutes a digital service? Generally, services can be split into two categories: informational and transactional. While information services can include websites, virtual assistants, publications and e-learning resources, transactional services focus on completing tasks, such as submitting a claim, making a payment or booking an appointment.
Griffith University
Australia's Griffith University ranks in the top 2% of universities globally, with more than 4,500 staff and over 46,000 students across six campuses in South East Queensland. The University had a clear vision for a new student portal - a platform that would enable it to communicate directly with different cohorts of students simultaneously. The result was the myGriffith portal, which offers students personalised dynamic content, an improved user experience, integrated with many different systems and can be easily viewed on multiple devices. The new portal will be the centre point of interaction for students with the University and their courseware.
North Lanarkshire Council
North Lanarkshire Council is the fourth largest local authority in Scotland. When North Lanarkshire Council set out to significantly reduce pressure on its contact centre, which received more than 16.5 million calls each year. Through the creation of a new citizen portal, enabling citizens to complete transactions and find essential council information online, 30% of these calls were moved to digital.
Austroads
The Austroads Safety Barrier Assessment Panel (ASBAP) assesses the crashworthiness and suitability of road safety barriers, systems and devices. To improve the transparency of the ASBAP submission and review cycle, a number of process reforms were planned – one of which was the creation of a new automated online submission process. The new ASBAP Digital Submission Portal was built using Squiz Matrix CMS and offers customers a significantly easier and faster application process.
Digital Service Maturity Model
Regardless of location or industry, the path to achieving digital services that meet customer, student or citizen expectations (also known as digital service maturity), requires the right digital vision, skills and technology.
Below is an example of a digital service maturity model, showing the five key levels of moving from a rudimentary online service offering through to a sophisticated, fully digitised and optimised service. Obviously, the goal for any service-based organisation should be level five, but being able to identify where your current services offerings sit will help your organisation to recognise current strengths and weaknesses – as well as changes necessary for reaching the higher levels of maturity: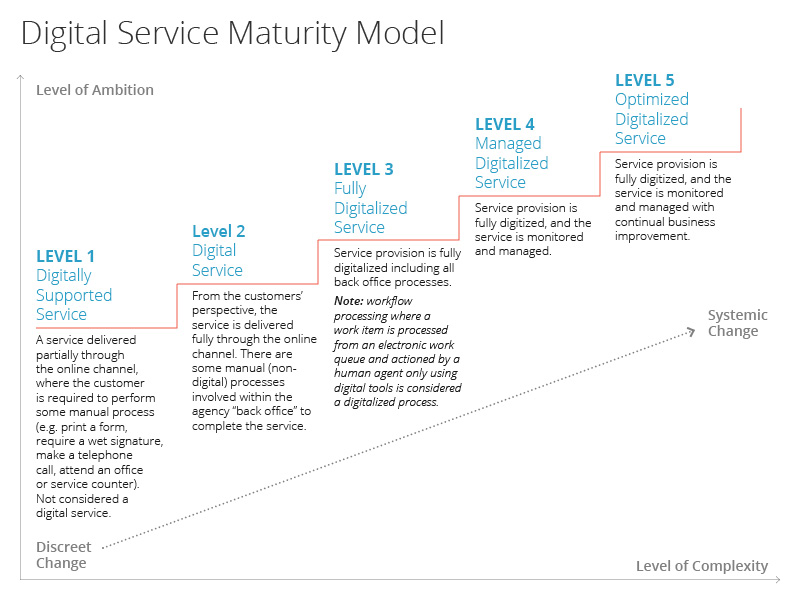 Selecting a Services-focused DXP
For organizations looking to create a powerful combination of frictionless online services and engaging experiences, selecting a DXP that is designed to deliver both – in equal measure – is key to success. Unlike other DXPs that have a pure consumer and e-commerce focus, Squiz DXP is designed with and for service-based organizations, offering innovative, industry-specific capabilities for government, education and financial services and more. Squiz DXP offers a fully integrated suite of solutions, meaning that integrating the front-end with back-end workflows, processes and data has never been easier – a capability that is key to 'improving the quality of interactions between government and its customers' (Deloitte, 2020).